The Winnipeg ICE started off the Eastern Conference Finals against the Saskatoon Blades with a bang. They not only won their first two games, but they absolutely dominated them, with Game 1 ending in a 3-0 final followed by a 6-2 win in Game 2. The ICE will look to continue their winning ways in Saskatoon for Games 3 and 4.
Game 1: ICE 3 – Blades 0
The Winnipeg ICE started Game 1 strong, with it being 2-0 on goals by Ben Zloty and Zach Ostapchuk in the first period. The shots were close in the first as the ICE outshot the Blades 10-8. Winnipeg came out in the second and added one goal by Carson Lambos to make it 3-0. That is all the ICE would need, as there was no scoring in the third. The ICE would end up outshooting the Blades 28-16, with neither team would capitalize on their power play chances during the game. Daniel Hauser was busy, but solid, stopping all 16 shots for his first shutout of the playoffs.
Game 2: ICE 6 – Blades 2
Saskatoon was looking to split the opening games of this best of seven with no such luck. The ICE would put up two; the first, specifically Connor McClennon, would score two to open the game. The game would start the same way despite the fact the Blades would outshoot Winnipeg 10-9. The second period would not be better for Saskatoon as the period would end 4-0 for the ICE as Zach Benson and Owen Pederson would add to the lead. One minute and eight seconds is all Connor McClennon would need to finish off the hat trick. The Blades would then score two back-to-back as Justin Lies and Jayden Weins would get Saskatoon on the board. Matthew Savoie would then put any thoughts of a comeback to bed as he would make it 6-2 with three minutes to go in the third.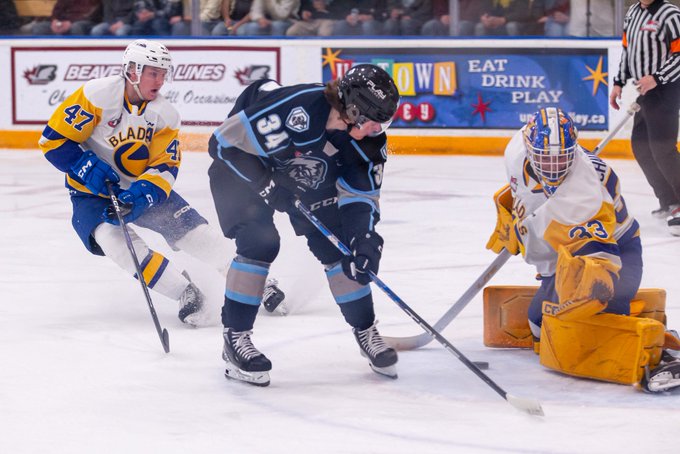 The Winnipeg ICE came into the Eastern Conference Finals as the heavy favourite, and they showed why in the first two games. They were dominant in every aspect of the game. Daniel Hauser looks like he has returned to his form after a tough series against Moose Jaw. The ICE are looking like everything is clicking at the right time.
The Blades will be looking to get back into this series at home. If they come out like they did the last two games, this will be a shorter series than we thought. If there was one team in these playoffs that has proven to never count them out, it is the Saskatoon Blades. So even if they get down 3-0 in the series, do not give a premature win to the ICE as just last series, they completed the reverse sweep. The series may be looking bad for the Blades, but there is lots of hockey to be played.