In any career or pursuit, there are always certain stepping stones to get to that dream mountaintop. A pillar where you can stand your ground. For many hockey players, one of those steps is the Hlinka Gretzky Cup. The eight-team tournament runs in Red Deer from July 31 to August 6 at the Peavy Mart Centrium.
The WHL will have 12 players represented at this year's tournament. That is the most out of all three leagues. Here are four WHL players and one BCHL player that everyone should be watching come once the tournament starts.
Tanner Howe, Regina Pats
I love players that aren't the blue-chip first-round picks that turn into special players. That's Tanner Howe. The WHL has some amazing 05-born stars. There is Zachary Benson, Brayden Yager, and a kid you may have heard of named Connor Bedard. But with the 73rd pick of the 2020 WHL Bantam Draft, the Regina Pats selected Tanner Howe. Howe used the fact that he was a fourth-round pick, not a first-round pick, as motivation. He got bigger, faster and stronger, which led to Pats Assistant Coach Ken Schneider calling him a "cactus plant." aka someone who will do the work necessary without constant supervision. Not only will Howe impress with his offensive game. For a winger, his 200-foot game is at a high level. This tournament will be an opportunity for Howe to step out of his teammate's Bedard shadows and have some eyes focus on him.
Andrew Cristall and Caden Price, Kelowna Rockets
The next two will be of particular interest to Kelowna Rockets fans. Interestingly, these two are together again for Team Canada. Both Andrew Cristall and Caden Price played at the Capital City Challenge in Ottawa. Rockets Head Coach Kris Mallette was also there. It has also stuck with me when Mallette talked midseason about starting the transition and giving more responsibility to both Cristall and Price. The future appears to be here for the Rockets. And this will be an early look. Although they are very different players that play a very different styles, there is an interesting synergy between the two.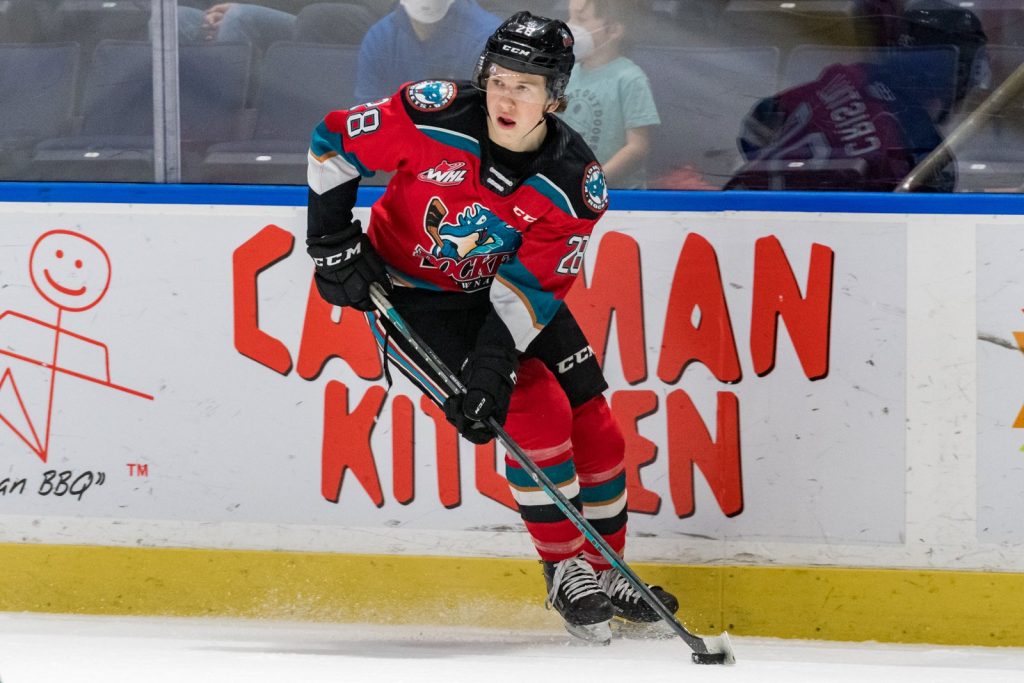 Looking at the players individually, let's start with Cristall. He loves to score. He loves to create offence. And he loves the game. It will be easy on the eyes to watch his skill. Cristall set the Rockets team record for goals by a 16-year-old with 28. He tied the record for points with 69. The future is very bright for Cristall.
For Price, he's the third of the four former Saskatoon Contacts on this team. (Kalan Lind of the Red Deer Rebels is the fourth). During the season, Price had 21 points (2G, 19A) in 47 games. And a rock steady plus/minus of +21. Price is poised to become another of a long line of rock-solid Rocket defencemen.
Riley Heidt, Prince George Cougars
Four former Saskatoon Contacts players made Team Canada. Of the four, the one that may be the most well-known is Yager. The biggest rising star of the four, however, is Riley Heidt. From all accounts, Heidt had a very strong camp. There were even suggestions that he may have been the best player in camp. Heidt led the Cougars with 21 goals and 58 points last season. But he was listed in Peter Barachinni's Way Too Early Top 15. A good tournament will be a great thing for both Heidt and the up-and-coming Prince George Cougars.
Matthew Wood, Victoria Grizzlies (BCHL)
Matthew Wood is definitely somebody to watch. Wood had 45 goals and 85 points in 46 games for the Victoria Grizzlies last season, and was the BCHL top scorer, a First Team All-Star, and an MVP candidate, all in his rookie year. This is an early look for Wood, who is projected to go in the first round of 2023. Wood is already getting comparisons to some top superstars of the NHL. The game looks easy for him as he finds a way to get open. He's rangy, calm, and he's already dominating despite his age.
Wood is an exciting prospect. During camp, Wood has been skating on a line with Kalan Lind and Ethan Gauthier of the Sherbrooke Phoenix. He is another of a very long line of high-level future stars that are coming from B.C. and the BCHL, which continues to produce talented prospects.
What's exciting for me about this tournament is that it is an early look at this highly anticipated 2023 draft. This should be a fun tournament and a great opportunity to see these players take a big step towards achieving their hockey dreams.