Austin Roest (Photo: Kristin Ostrowski/Everett Silvertips)
You know when you meet someone and you immediately know they have the potential to become great, it's only a matter of time? Meet Austin Roest, an 18-year-old centerman for the WHL's Everett Silvertips.
From the first time I spoke with him back in early June of 2022, just a few weeks before his first draft year, I could tell there was something there — something different from his stats-heavy fellow draft-eligibles. He flew under the radar for the most part, ranked as a late rounder through most of the NHL Central Scouting reports, but still showed flashes of potential looking at the end of his first full season in Everett. The 2022 NHL Entry Draft came and went, and he was not one of the lucky few to get his name called by an NHL team.
"When the draft happens and you don't get drafted, you get a little bit distraught or upset, but like anything else, 'that too shall pass'," said Dennis Williams, head coach and general manager of the Everett Silvertips. "I told him after the draft that within 48 hours, nobody's talking about it anymore, it's yesterday's news."
It's not like Roest had much time to think about it either, as he was invited to attend the Colorado Avalanche's development camp soon after the draft had concluded. Earning the chance to learn from the defending Stanley Cup champions and get a first taste of what the game would look like at the next level was something he certainly didn't take for granted.
"It was really about using the skills I already have and getting bigger and stronger on the ice," said Roest, reflecting on his time with the organization back in early July.
Roest's time with Colorado extended to the 2022 Rookie Faceoff in San Jose, where he was invited back to represent the organization following three preseason games with the Silvertips in early September. The tournament was arguably more high-stakes than development camp, as it wasn't about playing scrimmages against prospects on the same team, but a first brush with what the professional level would be like.
"[Coming into the tournament], you really realize how fast the next level is — it's so much faster, much more physical, guys are bigger and stronger. Just learning from them has been a really great experience for me," said Roest of the experience with the Avalanche in San Jose.
His teammate — and occasional linemate — Ben Hemmerling attended the rookie faceoff in San Jose as well. Hemmerling took away the same lessons as Roest, emphasizing the importance of understanding just how much work it takes to make it to the next level, as it doesn't stop after getting drafted.
"People don't realize how much work guys do behind the scenes that will translate to their success on the ice," said the Vegas prospect. "All the preparation, the hard work that goes into how these guys play, it's not that they just show up at the rink, put their skates on and play well, it takes hours and hours of preparation."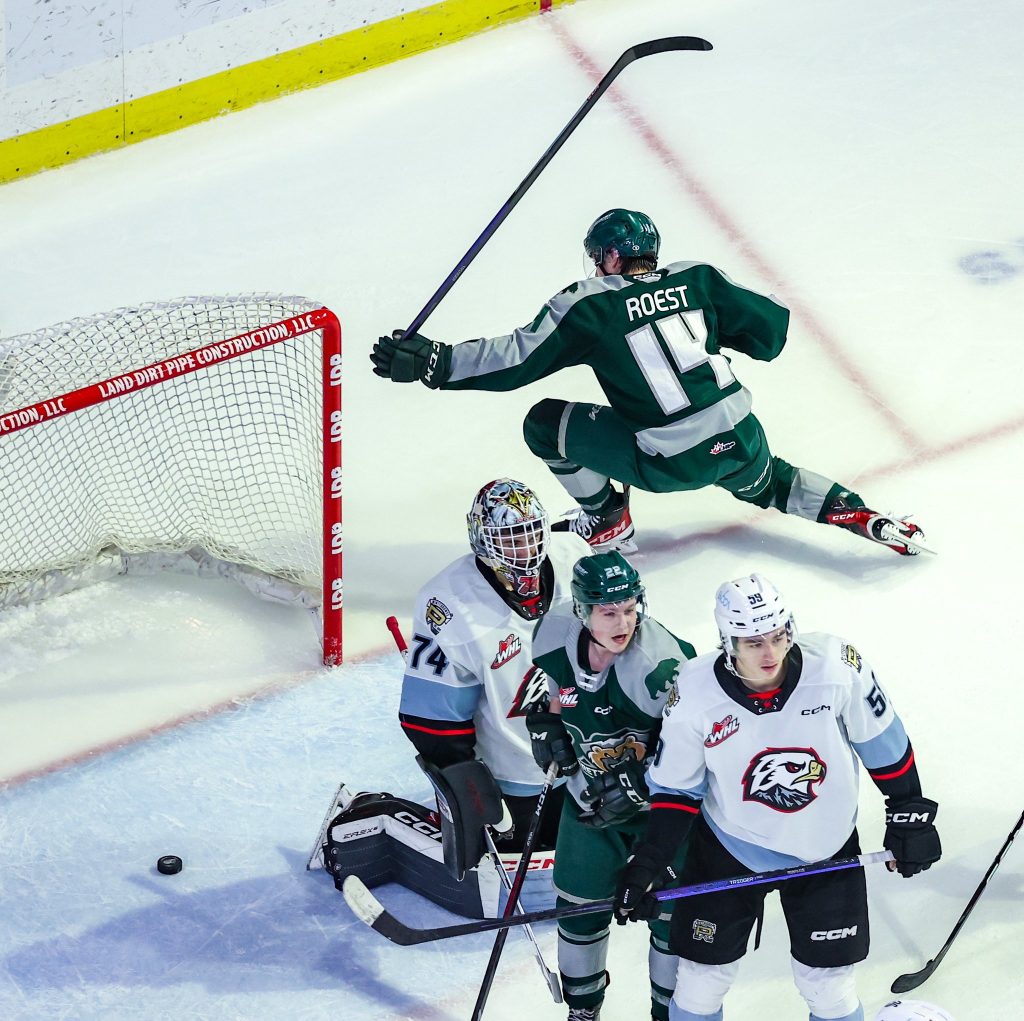 Seeing how Roest's play style evolved as soon as he returned to Everett for the beginning of the regular season, it's clear he took those lessons to heart. Furthermore, individuals involved with the Silvertips at all levels of the organization noticed that change.
"He definitely took full advantage of the opportunity in Colorado and brought some things back to Everett and it shows through the first half of his season here," said Hemmerling.
There wasn't just one lesson that Roest took to heart and applied to his game, it was a little bit of extra speed here, some more passing there, and a propensity to execute plays that he wouldn't necessarily have predicted without that first taste of professional action.
"His creativity has been more on display this year," said Casey Bryant, Silvertips Director of Broadcasting and Media Relations. "By adding the role of a driver of offense, his stick handling is a lot stronger, he's more prone to shoot, and he's just getting to the high-danger areas better."
Becoming an offensive threat on the ice is likely the result of being moved to center as opposed to being on the wing, as it provides a naturally leadership-adjacent role — your wingers follow your lead on the play and trust you to direct them as play goes on. Though he played at center towards the end of the 2021-22 season, Roest has taken up the position for every game so far this season.
"Our coaching staff does a good job of putting him in those roles that fit him so he's ready for all of those moments and situations," said Silvertips captain Jackson Berezowski.
For Silvertips head coach and general manager Dennis Williams, the invite to Colorado's development camp was just a culmination of all Roest's hard work in the offseason. Roest committed himself to keeping up with his training, honing in his skills so he could come back even stronger next season no matter if he got drafted or not.
"Credit to him, he wasn't just satisfied with having an average year, but coming back and having an unbelievable year, and that's what he's doing," said Williams.
Choosing Development
One of the main forks in the road to the National Hockey League is deciding between a career in the Canadian Hockey League (CHL) or a career in the National Collegiate Athletic Association (NCAA). Because players who are drafted in the CHL have to sign a contract in order to play with their respective club, the NCAA considers the CHL a professional league, therefore rendering any player who has participated in the CHL in any capacity ineligible for NCAA competition. This would be a huge decision for anyone, but especially for kids who are just beginning to think about their future in the sport, it feels like an exceptional amount of pressure.
From Roest's perspective, however, the decision was pretty easy:
"I was pretty certain I wanted to play in the WHL — I wasn't really leaning too much towards the NCAA. I thought the WHL was a good route for me, and I've loved every moment of it."
Going down the CHL path is often regarded as suitable for players who are considered "instant impact players" — or players who have a lot of raw talent that can be refined in the five short seasons they spend in the league. The CHL is a fast-moving league, and it has to be if teams are going to play 68 regular season games between September and March of the following year. Naturally, the development of players has to be top-notch if teams want to attract more prospective players. It's through the heightened competition and high volume of WHL players who are eventually drafted into the NHL that leads many players — including Roest — to consider the CHL route the right one for them.
"You want to do what's right for your development, and I think just the fact that [the WHL] is the best junior hockey league in Canada, that's what makes it the most exciting for players to play in. It was a big part of what led me towards the CHL and WHL overall."
Due to the ongoing COVID-19 pandemic which delayed the start of the 2020-21 regular season, the WHL shortened their season from 68 games to 24 games, playing from February 26th to May 12, 2021. Rather than playing across divisions and conferences, teams played within their divisions, with Everett playing the other U.S. Division teams — Portland, Seattle, Spokane, and Tri-City — in Washington state. By the end of the abridged season, the Silvertips stood atop the U.S. Division with 38 points and a 19-4-0 record. Despite starting his WHL career in the COVID season, Roest saw it as an advantage from a development standpoint.
"The bubble season was a lot of long days at the rink, which made me a better player for sure — it made me respect the grind a bit more."
As for looking back on his decision to enter the WHL, how does he feel that worked out for him?
"To see how far I've come from my first year in the bubble when I was 16 up until now, my 18-year-old season, it's cool. It doesn't feel like it's already been two years, but it's awesome. I love Everett and I love this league as well."
Though he had only completed his first full campaign with Everett by the end of the 2021-22 season, it was clear he had the so-called raw materials that could be worked with and shaped into a cohesive, 200-foot player. With hockey IQ being one of the more important attributes in a game that only gets faster and more skilled every season, Roest stood out immediately to both the coaching staff and his teammates.
"When he came to us a couple of years ago, you could definitely see he had the hockey sense, the hockey skill, the playmaking ability," said Williams. "When players come to us in those first few years, they're usually a little bit behind in terms of strength, but it was just a matter of time until he continued to get stronger. He had all those intangibles of being a very good, junior-dominant player, as well as a potential pro player."
Turning those intangibles into results on the ice didn't just come from working with coaches and listening to every piece of feedback; it took a lot of discipline and willingness to put in the work, one thing Roest certainly has.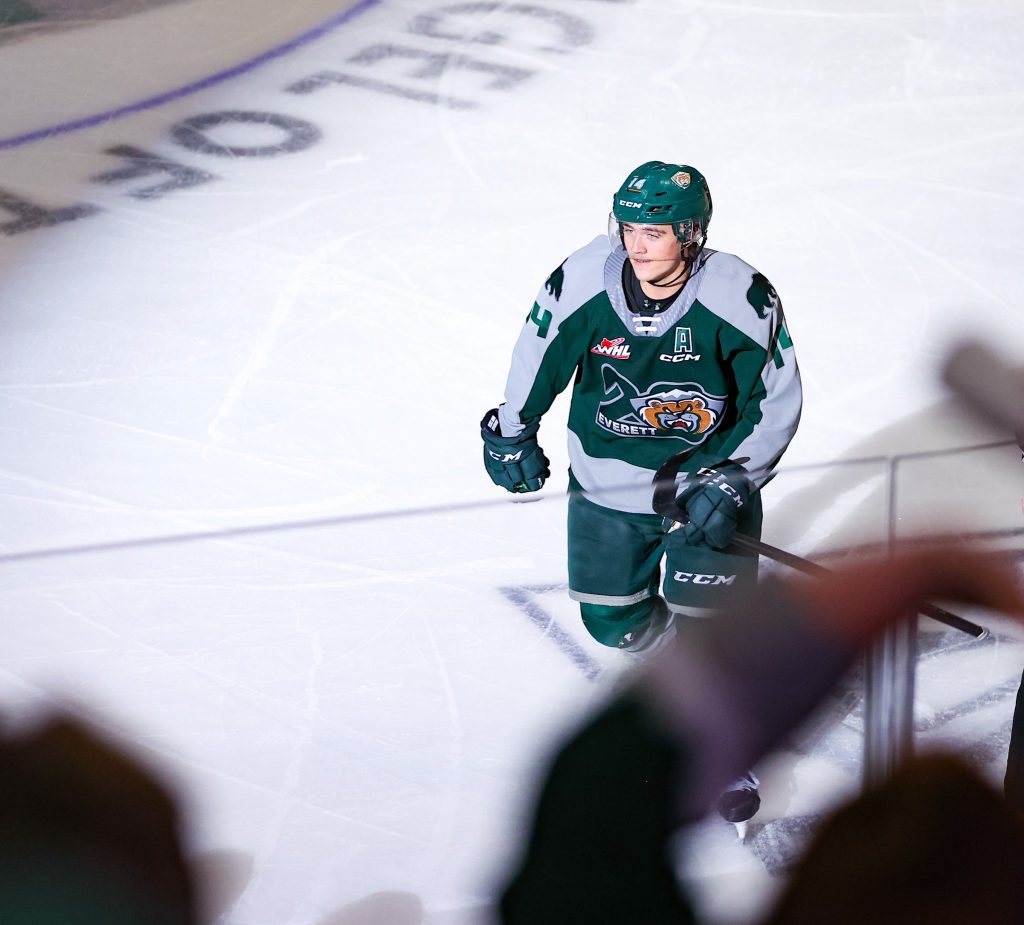 "[Austin]'s probably one of the hardest workers I know. He's definitely dedicated to his craft — he works a lot on his individual skill, whether it's stickhandling or shooting, and he also puts time into his video and things like that," said Hemmerling of his work ethic.
His work ethic isn't just something to gawk at, it's something that strikes genuine respect for the amount of dedication he puts into his craft — being a diligent student of the game.
"It's hard to match — that's probably the best way to put it. He puts in long, long hours at the rink and it's just nice to see it paying off for him," said Berezowski. "He deserves all the stuff he's been getting so far, and it's just the tip of the iceberg for him considering the amount of work he puts in."
Though, of course, the continued open line of communication with his coaching staff only helped him more.
"That's one thing that really separates him from a lot of players: his self-assessment of his game, making sure he's first getting his one-on-one meetings because he wants to sit down and get better. He'll come in and want to have what we would consider a coach's conversation — he comes in and he'll dissect his shifts in terms of how he can get better at them," said Williams.
Put simply, Roest understands the kind of work it'll take to reach the next level, and he's already committed himself to doing it.
"He's just one of those players that can put his nose to the grind and eventually things fall into place — it's clear his skill and talents are being rewarded now," said Berezowski.
Making a Case for the Next Level
In terms of attributes that could be of interest for NHL teams, Roest is held in high regard by all who know him well.
"Austin is exactly the kind of person you would want in the room. He says all the right things, does all the right things, is the friendliest guy, and I think that goes a long way," said Bryant. "You need community-minded people, you need glue guys in the locker room, and Austin is an extremely professional person and he's learning to be a leader-type person this year."
Despite his stature, Roest plays up to his opponents across the league, taking a mile when only given an inch on the ice, relying on his ability to see ahead in the play before it happens in front of him.
"You look at him, he might be an undersized player, but he'll play inside the dots, and he'll go to the blue paint. He's a leader, he understands what it takes to win, and he leads by example," said Williams. "When you encompass what he does on the ice and off the ice this year, how wouldn't you want a player like him in your locker room to help build your team culture?"
Through speaking with his teammates especially, Roest has become a valuable part of Everett's culture, being a resource for younger guys coming up in the sense of setting a good example in regards to how he approaches the game as well as simply being a friendly face.
"If teams asked me about him, I would say he's one of the hardest workers I know, and I know he's going to do something with his hockey with just the way he practices and how much he's invested in himself. I mean, you see everything on the ice and how he plays, everything like that, but the dedication he has to the game? He's all in. He's not one foot in the door, he's fully invested in himself and into his craft on the ice," said Hemmerling.
Even when it comes to his interpersonal relationships with everyone on the team, Roest makes himself available to work on every aspect of his game, constantly refining the details, taking feedback, and applying it immediately when given it.
"He's a coachable guy — that's a big quality to have. If any member of our coaching staff gives him something or a tool that maybe they want to see out of him, he puts it into his game right away and can implement that pretty quickly. Whether it's putting him on a special teams role or tweaking stuff about his game, he's always open to getting better and learning, which is a big thing to have in a player," said Berezowski.
Gameplay and scoresheet appearances aside, Roest is known to be an extremely personable and genuine human being, something echoed in every interview I had through the process of this piece.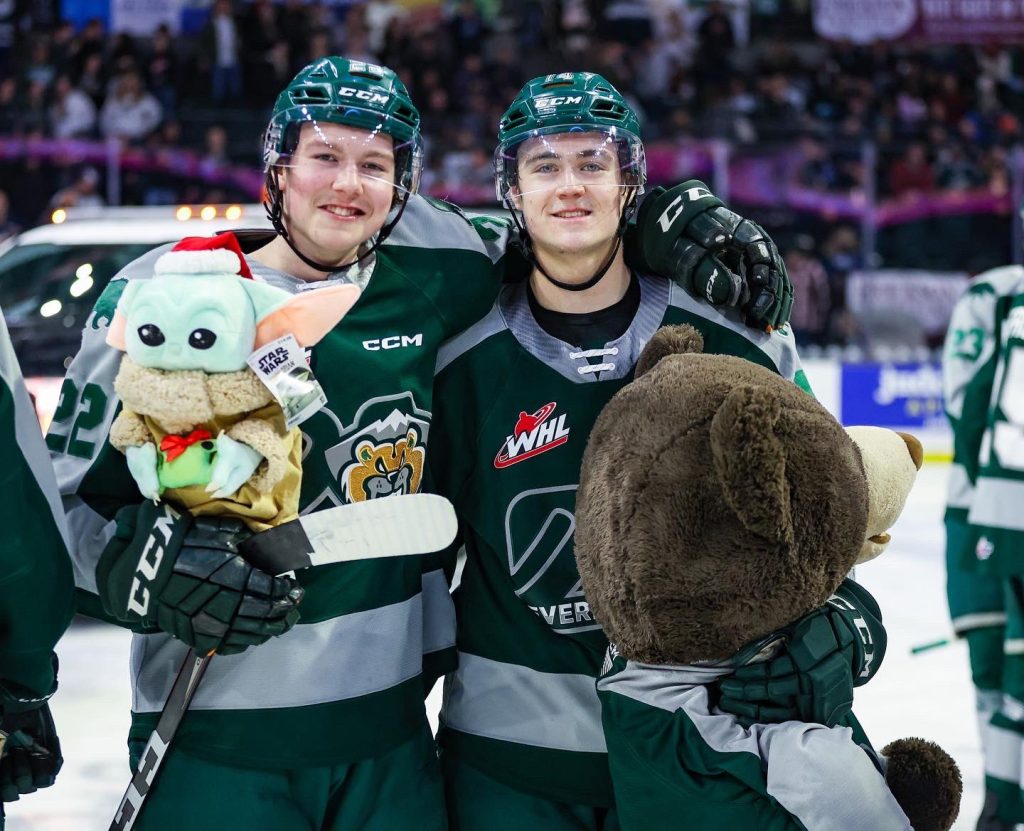 "A player like Austin, it's not only what he does on the ice, but just the type of character he has off the ice. He's a great teammate, great friend to the guys, great mentor," said Williams. "Can't say enough about him, he's just an unbelievable young man. He's a guy who if I was coaching the next level, I'd want him on my team."
Even if he doesn't get drafted in the next cycle, he has the full confidence of his teammates and people within the Silvertips organization that he'll continue to progress in the WHL.
"In my mind, he's a guy that I'd recommend people look out for because he's going to be a threat in this league for a couple more years, and I'm excited to see what happens with him," said Berezowski.
With at least two more seasons in the WHL, Roest has limitless potential if he continues on the same trajectory — which there's no doubt in my mind — or anyone else's — that he will.
"It's nice when positive results come to people who have worked for them and for people who just carry themselves the right way — it's a sign that the system works, right?" said Bryant. "I'm very happy that he's gotten results in the earlier point in the season, and I have no doubt that he's going to continue that throughout the course of the season."
Simply put, those who work hard are more deservedly rewarded for the dedication with which they approach everything they are passionate about. Roest's success through the first half of his season in Everett is just a testament to his hard work in the offseason as well as the way he's worked with Williams and his staff since joining the organization a few seasons ago.
"I can't speak enough volume about how he's grinded it out for two years," said Williams. "He keeps coming back and wanting more."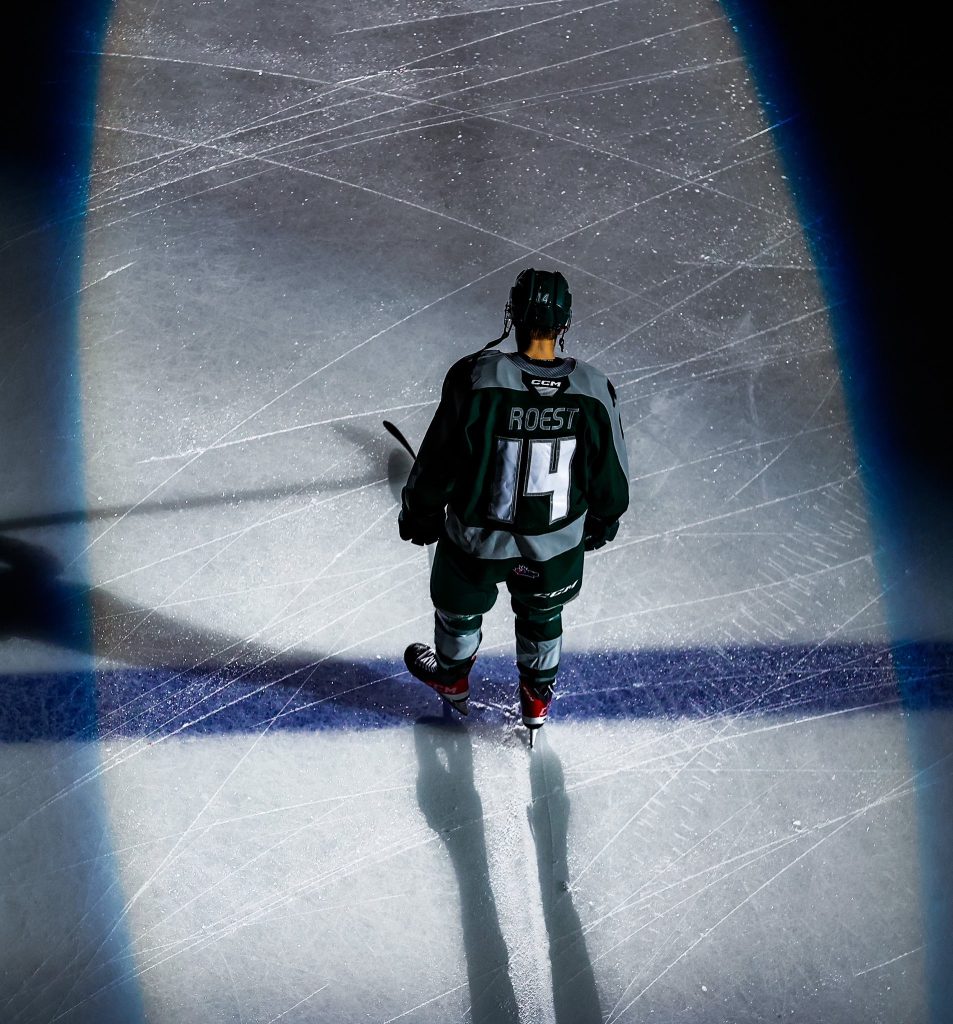 Rising to the Occasion
Above all else, it's Roest's confidence and dedication to his kind of game that renders him invaluable to any team that looks to add him to their roster. He knows his goals, and he fully understands the kind of work it will take to get there.
"It's the end goal of playing in the National Hockey League. That's what I've wanted to do since I could remember and that's the only motivation I really need."
Even when confronted with the game at the next level through his experience with Colorado, Roest wouldn't let himself get deterred from his goal.
"It was definitely cool to see even just how different the NHL is from the WHL. I was just surprised at how good the hockey really is — it was unbelievable and showed me I have a lot of work to do, but I'm willing to do that work."
And where does this dedication to grit come from? A no-regrets philosophy.
"I just don't want to look back on my career and regret not working hard or putting in the extra time. That's something I put a lot of pride into and I think it's gonna pay off eventually."
All this is to say Roest has enough faith in himself and his goals to where he's just going to keep pushing towards the NHL, leaving everything out on the ice, giving himself the best chance for success possible.
"I'm just gonna keep playing my game and keep working so hopefully, come draft day, I get my name called. If not, that's not gonna stop me and my end path, I'm just gonna keep working hard, keep competing and I know I'm gonna get there eventually."
More about Roest
If you had to choose one word to sum up Austin Roest, what would it be?
Bryant: Mature — he's wise beyond his years.
Williams: Complete — he's a complete player, he's a 200-foot player. He's depended upon on the offensive and defensive faceoffs, six-on-five, five-on-five, power play, penalty kill. Off the ice, he's conscientious about everything he does, whether it's regeneration, foam rolling, his daily routine, his daily schedule, how he works out, what he eats, how he sleeps. He's really encompassed that word. He's a complete player to me, he's a complete person who just wants everything to be done in a manner that helps advance his game and his teammates' games.
Hemmerling: Maybe enthusiastic? Everything he does, it's not half effort, he does it 100%.
Berezowski: Determined — I think I've said that a couple of times about him. I wish everybody could see how hard that kid works. He's the last one at the rink every day, putting in extra work, extra ice sessions, extra stretching, seminars, anything from video to just being on the ice. That kind of stuff, it goes a long way, and his production and offensive stats are a byproduct of that.
What's one thing you wish everyone knew about him?
Bryant: Austin is a really talented kid, but he's also a very personable kid. He's such a gem to talk to and he's a fun player to get to watch on the ice. Austin breaks that mold that hockey guys are nice but boring, he's a very personable kid.
Williams: He's a great kid who comes from a great family and it's great to see his success. Seeing him evolve from his first year as a 16-year-old to an 18-year-old now, it's unbelievable the jumps he's taken in those two-and-a-half years. You're talking about the right type of player, and even more so the right type of person.
Hemmerling: It's just how he carries himself — something about the energy he gives off, he's a great guy and I can't say much else. Everything about him is something I like.
Berezowski: On the ice, he works harder than anybody — he's just one of those guys you'd love to have in your room. He's a special player. He's a big player for our team and our group too. Like I said, it's only a matter of time before guys like that get rewarded for the little things they do.