The situation in Alberta's northernmost WHL team has been less than ideal this season, to say the least. With a new coach, almost an entirely new roster, and high expectations, the Edmonton Oil Kings are off to a rocky start through their first 11 games. While the takeaways are still largely negative, there are some positives to be taken.
The Good
So far, positive moments have been few and far between for the Oil Kings; However, the gold nuggets that are there have the potential to shine bright.
Kolby Hay
Being left in the crater-sized hole of Sebastian Cossa's absence, Kolby Hay has done more than his fair share of work since moving into the starting role. Undrafted in 2022, Hay is making his case to at least warrant a second look as an overager. While the numbers don't appear to be in his favour, the 2004-born goaltender has appeared in every single game this season for the Oil Kings, logging 578 minutes, and making eight starts to the tune of a 1-7-1 record. The more impressive stat here is that Hay is facing around 33 shots per game, with a 0.890 save percentage. Kolby Hay is at least giving his team a chance to win every night, and that's what matters.
A Returning Presence
Re-entering the WHL with a bang, forward Jaxsen Weibe potted a goal in his return to Rogers Place from injury. A solid piece of the 2022 WHL Championship run, Wiebe provides some scoring, as well as leadership and a physical aspect to this squad.
Two and a Half Men
Luca Hauf and Marshall Finnie (January 2004), along with Gavin Hodnett (April 2006), have been a very promising combination for Edmonton. Hodnett, highlighting his WHL stint so far with a three-assist night against the Regina Pats back in September, has yet to score a goal, not for a lack of effort. Averaging about 2-3 shots per game, and having varying degrees of success in the faceoff circle, Hodnett is showing some early promise in this league, with opportunity on the international stage.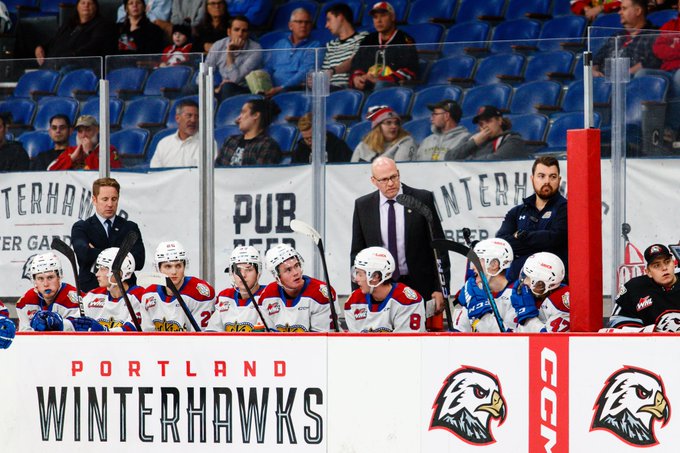 As for his older counterparts, Hauf and Finnie have combined for five points (3G, 2A) and shown some immediate chemistry with room to grow. While this combo was split to start their return to Rogers Place on Friday, it wouldn't be a shock to see them back together in short order.
The Bad
This is the part no one really wants to talk about. Through the team's six-game road trip, which saw a kickoff in Prince Albert and continued with five stops in the US, the Oil Kings were outscored 28-6; that is, including winning the opening contest 3-1. This brings the team record to 1-8-1 on the season, placing them firmly last in the WHL. Sporting a 10.3% powerplay and a 71.4% penalty kill (the latter being ahead of only Spokane), is not digging this squad out of the basement either. With the likes of Neighbors, Guenther, Guhle, and Sourdif long gone, they will have to dig deep to uncover their scoring prowess once more. With that said, the Oil Kings are attempting to restock the cupboards early by parting ways with Luke Prokop's rights (though it was unlikely at best he returned to the WHL at best.)
The Optimistic
While things seem bleak for Edmonton at the moment, the time could not be better to start stringing some wins together. Over the next four games, all of which are at home, three of their opponents are in the bottom half of their respective divisions. The six-game homestand did not get off to a good start, falling to Prince Albert 2-1 and dropping a 5-1 decision to Saskatoon, but this team has to start somewhere.