Brian White was acquired by the Vancouver Whitecaps just over two years ago. He was brought in from the New York Red Bulls in June of 2021 for $400,000 in General Allocation Money.
At the time, it looked like a strange move. The Whitecaps were not only struggling to score, they were lacking service and needed a new number 10.
White has no goals in five assists with the Red Bulls in 2021. The New Jersey native did have a goal-scoring pedigree as he scored nine in 2019 and five in 2020. In that year, which saw COVID-19 turn the world upside down, he was named the Red Bulls offensive player of the year.
The Whitecaps were still playing in Sandy Utah when White was acquired and White wasted no time making an impact as he scored on his debut against Real Salt Lake, which was a 3-1 loss.
But things got better for White and the Whitecaps. Two people contributed to White's ascension. The first was Vanni Sartini, who replaced Marc Dos Santos on the touchline after they got knocked out of the Canadian Championship by Pacific FC. The second was that much-needed number 10 and that was Ryan Gauld.
White and Gauld found instant chemistry in late 2021 as they helped Vancouver into the playoffs for the first time in four years. White scored 12 goals that season with the Whitecaps and that included a hat trick against the San Jose Earthquakes. To this day, White is still the last Whitecap to score a hat trick.
White went on a tear in late 2021 and it seemed like he couldn't stop scoring. It felt like he was transforming into something bigger and better and each goal wasn't his final form.
Flash forward two years later and Gauld and White's chemistry has returned. It turns out, they are in pretty good company.
Both Gauld and White were in the MLS Team of the Matchday thanks to their performances on Saturday against the Portland Timbers. Gauld has been on a tear since May and is putting up MVP-level numbers.
We've talked plenty about Gauld and how good he is on this site already and as you know, this article is about White.
White is having a pretty good season as well. This should honestly be talked about more.
Those are pretty good numbers. After a tough 2022 season, which saw White only score four goals in MLS play and deal with numerous injuries, it is nice to see.
White has been the king of expected goals this season. According to FotMob, he has 11.3 xG on the season which ties him for first in MLS with Nashville SC, who by the way, is the reigning MVP and could win it again. White is also third in xG per 90 minutes at 0.48 behind Heber of the Seattle Sounders and Atlanta United's Georgios Giakoumakis.
White's underlying numbers over the last year are also impressive.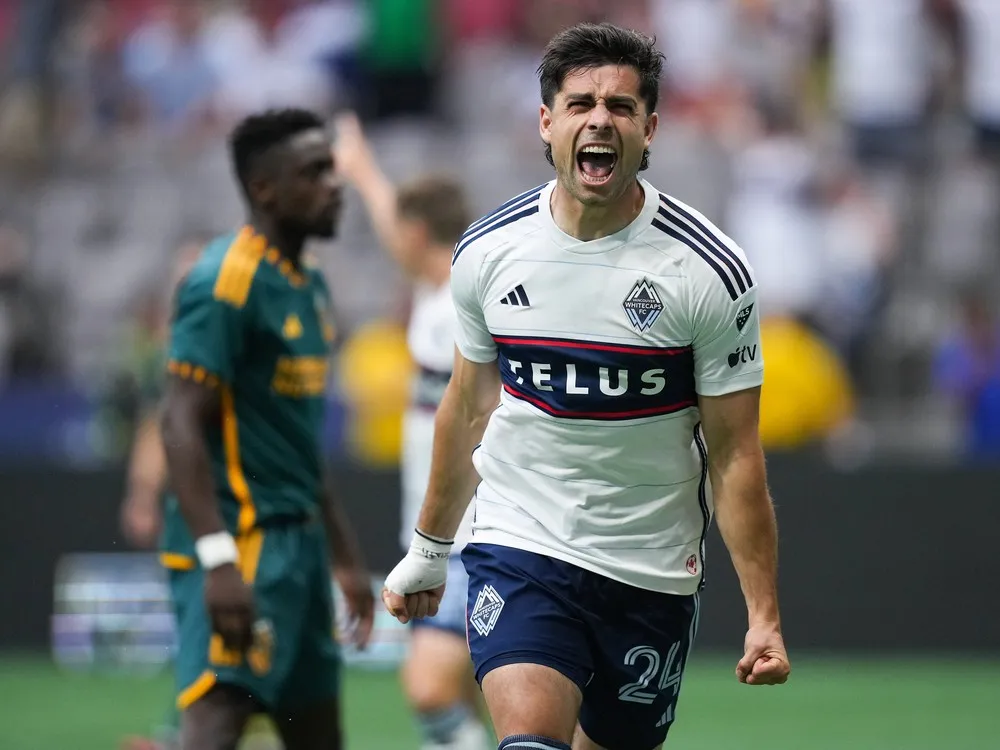 Yes, White has missed some sitters this season. (Especially early in the season.) But he has proven he is a key piece to the Whitecaps playoff push this season.
White isn't fast or isn't tall but he has the makings of a clinical striker. His best assets are his ability to get in behind, and his head.
White is a poacher. He is very good at running into the box and staying as close to the goal as possible and waiting for the right pass.
Should White have more goals this season? Yes.
Has he been unlucky at times? Yes.
But has White been an effective player for the Whitecaps this season? Yes.
Even when he is not scoring, he is helping the team out by poaching, passing and reading the game.
White won't replicate his late 2021 form (though it would be really cool if he did) but he has shown he is a key part of this Whitecaps team as they continue to push for the playoffs.