*This was originally posted July 4, 2021*
I really hope you enjoyed last week's edition of Avid Thoughts because that one was fun to write. Here is the second edition of the temporary column that is in place of the Avid Discussers Podcast for the time being. I am writing these on my living room desktop computer and while it can be slow, it still works fine.
With that in mind, let's get cracking with Avid Thoughts.
Duncan Keith to Vancouver, No, God, Please No.
On Tuesday, Elliotte Friedman reported that the Chicago Blackhawks were trying to trade Duncan Keith to a team in the Pacific Division or Western Canada.
Should the Vancouver Canucks trade for him? Absolutely not. The move doesn't make sense.
If the Canucks want a veteran LHD why not bring back Alex Edler on a cheap contract?
Keith is 37 and has two years left on his contract which has an AAV of 5.538 million dollars. Keith's best years are behind him. He had a career-low 15 points and has played top minutes but has struggled against opponents' top lines.
The Blackhawks may want to take a big contract off the Canucks but at the same time, they would take another bad contract. They might also be asked to give up picks or prospects as well so why bother.
It would make more sense for Keith to go to the Seattle Kraken. Oh and with the Sedins as advisors, it's not going to happen. Canucks fans will never forget the time Keith elbowed Daniel Sedin in the head.
Daniel must have done his best Michael Scott impression seeing Keith's desire to play in the west.
The Abbotsford Boring Name
The Abbotsford AHL team will reveal its name, logo, and jerseys on July 9th. It will be great having the farm team close to Vancouver so call-ups will be easier, fans can get a glimpse of the prospects and there are jobs for aspiring media members. It was reported by the Abbotsford News that the name will be the Abbotsford Canucks due to social media pages being created under the name "Abby Canucks." Webnames.Ca has a domain registered as abbycanucks. It was registered on May 5th.
Other AHL teams have the same name as their NHL counterparts such as the Providence Bruins, Texas Stars, and Iowa Wild. (What is even in Iowa?) The Abbotsford Canucks just sound boring.
Canucks are a great name but my head can process another professional hockey team being called that. They had a shortlist of names a few weeks ago that included Aces, Avengers, Pilots, Sockeyes, and Aviators. The shortlist had a lot of great names and personally, I like Aces, Avengers, and Aviators because of the alliteration. Naming the AHL team the Canucks would be like copying someone else's homework and changing the answers slightly so the teacher won't hopefully notice.
They have the opportunity to have a fun and creative name but oh well. With the Abbotsford Canucks, we can call them the Baby Canucks. The good news is that Loui Eriksson will still be a Canuck next season but in Abbotsford. In fact, this may be a good idea because we are all Canucks after all.
Maybe the domain is just a default name and the real name is being kept under wraps but whatever the name is, bring on hockey in the valley.
It was a good run, Habs
The Tampa Bay Lightning are up 3-0 in the Stanley Cup Final and this really should be no surprise since the Bolts are an elite team. However, I expected more from the Montreal Canadiens.
Carey Price hasn't looked like himself. The Lightning have been excellent on the rush beating the Habs at their own game. That's the thing about Tampa. They'll beat a team at their own game.
The Habs turnovers have been killing them, especially ones from Joel Edmundson. Nikita Kucherov and company continue to prove they are the kings of the NHL and a second straight Stanley Cup is in sight.
Also, there is probably a divorce in the cards for this guy. Imagine paying a large chunk of money, miss the birth of your first child all to see the Habs get spanked 6-3.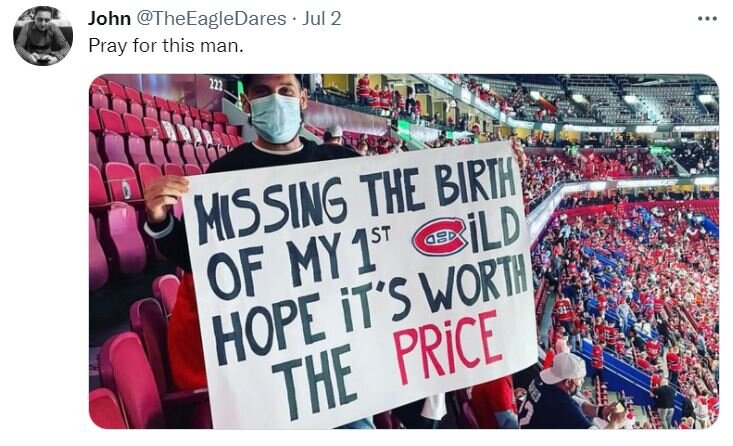 The Olympics are still happening apparently
I almost forgot the Tokyo 2020 Olympics are still happening. Japan's COVID-19 cases are on the rise and that is a concern with all the athletes and staff coming to Tokyo. Normally, I would be excited to watch the likes of Andre De Grasse and Penny Oleksiak compete for gold but we are still in a pandemic.
Canada's Men's basketball team lost to the Czech Republic in the semi-finals of Olympic qualifying so that is a bummer.
The big story right now heading into the Olympics is the one-month suspension of American sprinter Sha'Carri Richardson because she tested positive for Marijuana. The green stuff is on the Olympic banned list because it poses a risk to the athletes, it has the potential to enhance performance and it violates the spirit of sport according to U.S. Anti-Doping Agency and Canadian Centre for Ethics in Sport per CBC.
Recreational Marijuana is legal in 19 plus states (including Oregon where Richardson was tested) and the NFL, NBA, and MLB have softened their stance on it. It makes no sense because some athletes get away with years of doping with actual performance-enhancing drugs and steroids. Yet, they sound the alarm on some weed. I don't get it. Richardson will miss the 100 metre dash and frankly, she shouldn't be missing any Olympic time at all.
Is football actually coming home? (Yes)
The final four of Euro 2020 are set. With Italy against Spain and England against Denmark being played at the famous Wembley Stadium in London. We have been treated to an amazing tournament so far which included penalty shootouts, own goals, upsets, and some fabulous goals.
England managed to defeat their old enemy Germany for the first time since 1966 and smashed Ukraine 4-0 in Rome. They are in the semi-finals of the Euros for the first time since 1996.
You might have heard Three Lions by Baddiel, Skinner, and The Lightning Seeds a few times by now.
Everyone seems to know the score
They've seen it all before
They just know
They're so sure
That England's gonna throw it away
Gonna blow it away
But I know they can play
'Cause I remember
Three Lions on a shirt
Jules Rimet still gleaming
Thirty years of hurt
Never stopped me dreaming
Well, it's now 55 years of hurt and yes we have seen this movie before. England wins games at a major tournament bringing hope and optimism to everyone from Bristol to Newcastle. Then they blow it away in some dramatic fashion. As someone who has watched the Canucks for the past 12 years, I know this feeling all too well.
But the song has that catchy and unforgettable chorus that makes any England fan believe.
It's coming home
It's coming home
It's coming
Football's coming home
Realistically I see Italy winning the tournament because they play such exciting and free-flowing football that makes it hard for other teams to catch up. I also apologize for calling Spain boring because they have not been that in the knockouts.
England cannot underestimate Denmark as they did with Croatia at the 2018 World Cup. They don't have the star power but they can make a team pay. It's great to see Harry Kane finally score again and even Jordan Henderson gets his first England goal. Gareth Southgate has to make sure to put his best lineup out there for Denmark and that might include leaving Jack Grealish on the bench because he has been great as a sub.
England still has not conceded a goal in this tournament and goalkeeper Jordan Pickford has been there when needed. I expect England to control the ball in Denmark's end and wait for the perfect opportunity to score.
Also, a Chelsea player will come home a European Champion for club and country. Will it be Spain's Cesar Azpilicueta? Italy's Jorginho and Emerson? Denmark's Andreas Christensen? Or England's Mason Mount, Reece James, and Ben Chilwell?
I still think Italy are going to be lifting the trophy at Wembley on the eleventh but my heart says football will come home because why not.
https://youtube.com/watch?v=RJqimlFcJsM%3Fwmode%3Dopaque%26enablejsapi%3D1