Photo Credit: Cincinnati Bengals Twitter Account
The calendar has flipped to February and that means the NHL is at the halfway point of the season, club football squads have been finalized and the NFL season is coming to an end. The Winter Olympics in Beijing is also underway. If you thought January went by fast, February is going to go by faster because it only has 28 days.

The Vancouver Canucks are still in the hunt for a playoff spot and the Vancouver Whitecaps season will be starting at the end of this month. A full season under Vanni Sartini and with Brian White and Ryan Gauld leading the attack is something to be excited about.

I honestly really don't know how to start these so let's just get into it.

The Canucks at the halfway point
The Bruce Boudreau bump was nice. However, this Canucks team still has a long way to go before they can compete for the Stanley Cup.

The loss in Nashville showed the holes in this team. (Though, you can say that about almost every Canucks loss this season.) The defence was woeful and the offence was firing blanks. The special teams also were underwhelming.
The Canucks are 27th in the NHL in goals for with 112. They are also 28th in goals per game with 2.43. In goals for per 60 at five on five, the Canucks are 31st believe it or not. That is obviously not good enough.

Thatcher Demko is the only Canucks All-Star and he deserves it 100%. However, Quinn Hughes also deserved to go because he has been great on the blue line this season after being poor defensively last season. JT Miller also deserved a shot for what he has done.

Playoffs? According to Dom Luczyznznnz's model, the Canucks only have a nine percent chance of making the playoffs. There is a chance.

However, it seems reality has set in that this team isn't good enough. The defence other than Hughes has been leaky and the top-six other than Miller has been quiet.

Elias Pettersson has struggled all year but has shown some flashes. Bo Horvat's offensive production is underwhelming and at an 82 game pace, is on pace for 46 points. Conor Garland has gone ice cold after a nice start. Brock Boeser showed some flashes during the Boudreau bump but he hasn't been scoring as much as we would like him to. It is also a contract year for Boeser and it will be interesting to see what his next deal could look like, especially with a 7.5 million dollar qualifying offer.
Thatcher Demko has got to continue his All-Star form and the top six have to get going if they want to get in the final 16.
The Chicago Blackhawks are a disgrace
The situation just gets worse for the Blackhawks.

Even though Kyle Beach revealed himself as John Doe, this story won't die down and it shouldn't. However, Blackhawks Chairman Rocky Wirtz wants it too.


He snapped at Mark Lazerus of The Athletic for asking about what would the Blackhawks do to empower players in the future so a situation like Beach's would never happen again.

"We're not going to talk about Kyle Beach," said an angry Wirtz. "We're not going to talk about 2010. We're moving on."

Here is the full exchange: https://twitter.com/WallMaz35/status/1489036176937861121

He also went after Phil Thompson of the Chicago Tribune: https://twitter.com/WallMaz35/status/1489037938092646402

Good on both Lazerus and Thompson for asking the tough questions.

This is just an awful and despicable response from Wirtz and it goes to show he has learned nothing about the situation and doesn't care about it. Why? It's because he has money and he'll try to use money to his advantage to put the story to bed. That's what rich people do.

He also responded with "That is none of your business." It actually is because the report and allegations were made public and journalists have the right to ask questions about it. Wirtz also said the team is moving on and is not talking about what happened.

That is also a tone-deaf response because this story is still going and it gets worse. There is now a third John Doe as reported by TSN's Rick Westhead. He is a former University of Miami (in Ohio) student and that is where he met Brad Aldrich in the fall of 2011. I won't get into too many details here since the story is linked but a warning that the story contains references to sexual assault. Aldrich used his time working with the Blackhawks and his Stanley Cup ring, 2010 Olympic silver medal and gold medal from the women's junior tournament as a way to get close to John Doe 3. Unfortunately, Aldrich sexually assaulted John Doe 3 while he was asleep.

Also big props to Rick Westhead for covering this story. Journalists like him are important and he should be an example to every journalism student whether they want to go into sports journalism or not.

The story shouldn't die. Wirtz was likely all pissy because he has been dealing with this for the past few months and it has been hurting his precious business and ego. Why is he acting like he's the victim? What Beach and the other John Does and the other Black Aces have gone through over the past decade is unimaginable. Talking about their experiences really takes a lot of guts as well.

Wirtz is the epitome of what is wrong with hockey culture. He's part of the old boys club that refuses to take accountability.

Wirtz apologized but it sounded really forced. He ended it by saying the organization has the right leaders to make a safe environment and all that. So why did he dodge the question and get all pissy?

Wirtz should resign. Every day that he is still the Blackhawks chairman hurts the NHL's brand even more. Oh and Gary Bettman isn't going to punish Wirtz for his comments, so that isn't a surprise. He wants to keep a struggling franchise that can't get butts in seats in Arizona, yet won't punish Wirtz for his comments or do anything (other than a 2 million dollar fine.) to punish the Blackhawks for covering this up for a decade.

They should both resign.

Moving on isn't easy for victims of sexual assault and Wirtz's comments were a slap in the face to Beach and all the victims. The Blackhawks have become the Sarlacc Pit of the NHL and Wirtz removed any hope of them building up trust for fans.
The Blackhawks have interviewed Peter Chiarelli for their GM position. It's what they deserve. I honestly hope the Blackhawks become the next Buffalo Sabres and suck for over a decade.
Women's hockey at the Olympics
The Canadian men won't have top players at the 2022 Beijing Olympics which is a shame. We were robbed of having Connor McDavid, Sidney Crosby and Nathan MacKinnon on the same team.


The Canadian women have already started their tournament and they have dominated with blowout wins over Switzerland and Finland. If your name is Sarah, you have to feel proud because Canada has been getting plenty of goals from Sarah Fillier and Sarah Nurse.


Women's hockey didn't become an official sport at the Winter Olympics until the 1998 Nagano Olympics. Canada and the United States have dominated at the games with Canada winning gold in 2002, 2006, 2010 and 2014 and the US winning gold in 1998 and 2018.
There was this article from the Toronto Star with the headline: Why Women's Hockey Doesn't Belong at the Olympics.
I'm not going to link the article and plus, it is behind a paywall. Basically, the article is saying women's hockey doesn't belong at the Olympics because it's not competitive enough.

Keep in mind, there are year-round training facilities in North America and there have been numerous pro leagues. However, only one exists now and that is the PHF (Go Whale) but it's growing. In Europe and Asia, women's hockey doesn't receive the same amount of support.

If those countries did support women's hockey the same way Canada and the US did and had pro leagues for women, maybe the Olympics would be more competitive. Again, hockey culture is backwards and refuses to progress. Support women's sports and women who cover sports, folks.

Women's hockey in the Olympics is pretty exciting and I'm sure Canada will face tougher competition as the Olympics go on. (Russia is their next opponent.)

Saying women's hockey doesn't belong in the Olympics because it's not competitive enough is an asinine take. Why was the article even allowed to be published?!


I don't care for the All-Star game plus ways to fix it

Oh yeah, the NHL had its first All-Star weekend in over two years.

To be honest, I don't care for it. I loved it when I was a kid but as I got older, my interest gradually waned.

The 3-on-3 format is fun in actual games but it's just boring at the All-Star game. The skills competition is where it is at especially with the breakaway challenge. Boomers may hate it, but it's fun to see players dress up and do all these crazy moves. I still can't get over Trevor Zegras' goal in the breakaway challenge. That was just insane and John Tortorella must have punched the air watching it.

The NHL tried to put in some creative ideas and they were the Fountain Faceoff and the NHL 21 in 22 challenge. While they were unique ideas since they were in Las Vegas, they kind of underwhelmed. Too bad no one fell in the Bellagio water during the Fountain Faceoff. It also wasn't live either.
The breakaway challenge is the best part. Here are some ideas to improve the All-Star game.
Send the best players: No more of this, send a player from every team. Nazem Kadri is in the top five in NHL points and thankfully he got voted in as Last Man In
How about a world cup style tournament? Have All-Stars from every country instead of divisions.
Bring back the East vs West format and whoever wins the game gets the host the Stanley Cup Final. Baseball did that for a few years. That way the All-Star game has meaning
Get rid of the rules. No offsides and icings and all that. How about bonus points? Two points for a power play goal, minus one point for a shorthanded goal or something. Or better yet, one goal is two goals and a goal scored against is minus one point. Or bonus points for the fancier the goal.
Players can wear custom equipment. Fancy helmets, skates, gloves or even wear costumes during it

Those are just some ideas. Let me know if you have better ones.

The Super Bowl: The home team vs the underdog


So the Super Bowl is set. It will be contested between the Los Angeles Rams and the Cincinnati Bengals at Sofi Stadium in Inglewood.

The Rams beat the San Francisco 49ers 20-17. They can thank Kyle Shannan for not running the ball as much in the fourth quarter and for Jimmy Garoppollo bottling it.

The Rams are the second team to play the Super Bowl in their home stadium after the Tampa Bay Buccaneers did (and won) last season. However, the Rams will be credited as the visitors since the NFC and AFC alternate on the home team in the Super Bowl every year. So do the Rams move to the visitors' locker room? According to The Athletic, they still get to use their locker room even though they are the away team. If it were up to me, the home team would be whichever city is closest to the Super Bowl's host city.

The Bengals are a great story. Two years ago, they were the worst team in the NFL and they got to draft Joe Burrow first overall. Last year, Burrow had a season-ending knee injury and the Bengals went 4-11-1. This year, they won their first playoff game in over 30 years against the Las Vegas Raiders, upset the Tennessee Titans and came back against the Kansas City Chiefs for an overtime win. Now they are in the Super Bowl for the first time since 1988.

The second-year Burrow will be facing Matthew Stafford who is in his first year in Los Angeles after a blockbuster trade from the Detroit Lions. Looks like he wasn't the problem in Detroit after all.

The Rams are obviously the favourites and the better team on paper. But, how can you not love the Bengals right now? (Unless you are a Pittsburgh Steelers fan or Cleveland Browns fan that is.)

LA has the better defence (especially with Aaron Donald, Jalen Ramsey and Super Bowl 50 MVP Von Miller.) and a good offensive line. However, the Bengals have an offence that is young and filled with swagger with the likes of Burrow, JaMarr Chase and Joe Mixon.

As for a prediction, I am going 30-27 Cincinnati. I'm on the bandwagon and I feel like their fairy tale story needs a happy ending.


How about some bold predictions? Both QBs will be picked off twice and one of each will result in a pick-six. A safety will happen in the first quarter. There will be streakers on the field three times. Mixon will have two touchdowns and Odell Beckham JR will have two crucial drops. The Rams will turn the ball over on downs at the one-yard line late in the game and the Bengals will go back and win it on an Evan McPherson field goal just like they did in the past few games. Then, Zach Taylor will be dunked with yellow Gatorade. With his two touchdowns, Mixon will be named Super Bowl MVP.

I'm intrigued to see what kind of commercials they will come up with this year. Too bad CTV and TSN broadcast local ads and promos for their shows instead of showing the commercials.
I am actually excited for the halftime show this year. I can't remember the last time I was. We got five hip-hop legends: Dr.Dre, Snoop Dogg, Mary J Blige, Eminem and Kendrick Lamar. Lots to like this year and with the Super Bowl in Inglewood, it's fitting that Dre, Snoop and KDot are among the headliners. The censors are going to be having a hard time covering up the cuss words. As for a setlist, I'm expecting the big hits. Songs like Nuthin But a G Thang, Still D.R.E., The Next Episode Lose Yourself, Real Slim Shady, Rap God, Gin N Juice, Humble, M.A.A.D City, Alright and Family Affair are expected.

As a big fan of Kendrick Lamar and Dr. Dre, you know I'm hyped. I also was big on Eminem in my early high school days.


How about a bold prediction for the halftime show too? Near the end, Dr. Dre takes centre stage and says " ladies and Gentleman, joining me on stage are the brothers I started this journey with," then joining him are, Ice Cube, MC Ren and DJ Yella. The show ends with a rendition of Straight Outta Compton and ends with a bang. I know the chances of that happening are slim (Ice Cube performed at a Nascar event at the LA Coliseum as I was writing this.) but you never know.
Chelsea's attack problems and frustration with Romelu Lukaku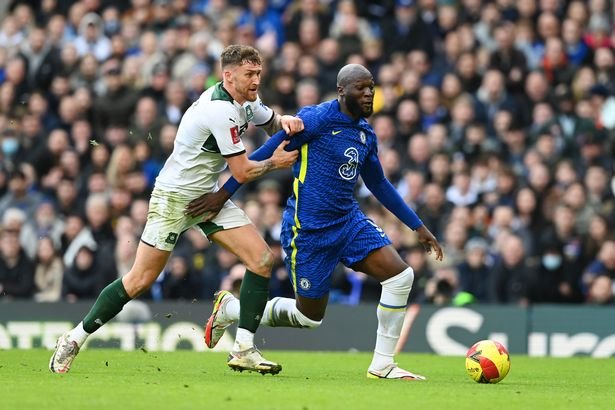 Moving on to football of the other kind, Chelsea is back in action after the winter break.

They faced League One side Plymouth Argyle and won in extra time. If it weren't for a penalty save from Kepa Arrizabalaga and goals from defenders Marcos Alonso and Cesar Azpilicueta, it would have been an embarrassing loss. The attack looked sluggish. They weren't creating enough and lacked the finish. Mason Mount and Hakim Ziyech were carrying the attack and Timo Werner and Kai Havertz struggled.
The attack has been a problem for Chelsea in the last few matches. They struggle to score, to link up and find space for scoring chances. They don't look threatening at all.
One attacking player has been very frustrating and that is Romelu Lukaku.

He couldn't win duels or tackles, his dribbling looked poor and he didn't look engaged at all. He has the pace, size and strength but he either stood there like a statue or looked slow. Lukaku's body language showed he doesn't want to be there. It's been about a month since his controversial interview with Sky Italy and his apology. Since then, Lukaku only has scored one goal and that was against Chesterfield in the FA Cup.
If he doesn't want to be here, then he should leave Chelsea. There goes 97.5 million pounds down the drain. (Chelsea's most expensive signing by the way.) What hurts, even more, is that Olivier Giroud and Tammy Abraham, two strikers that Chelsea sold in the summer to make way for Lukaku, have more goals in Serie A than Lukaku.

I was excited about Lukaku. Seven years after leaving the club and ten years after signing for Chelsea in the first place, he comes back after two incredible seasons with Inter Milan. He talked about how he loved Chelsea since he was a kid and it was a dream come true. It started off well for Lukaku. There were goals against Arsenal, Aston Villa and Zenit St. Petersburg and it looked like he really was the missing piece of the title-winning puzzle. But he struggled and then gave that interview saying he wants to go back to Inter.

Thomas Tuchel has been playing him so he can regain his form. I think the best thing right now is to bench him as a lesson. Maybe after a couple of games on the bench, he'll realize what it means to play for Chelsea.

Lukaku said Chelsea was his dream club, kissed the badge, and put his arm out to the Stamford Bridge faithful but it turns out that was just for show. It looks like he doesn't want to be at Chelsea and looks disinterested on the pitch.

The attackers need to wake up because the Club World Cup is up next. Chelsea will be facing Al- Halil of the Saudi Pro League in the semi-final. This is a trophy Chelsea haven't won. Al-Halil cannot be underestimated. In 2012, Chelsea lost the Club World Club Final to Corinthians, a team from Brazil.

Edouard Mendy sets the example to never give up


While Kepa was in goal for Chelsea, their main goalkeeper Edouard Mendy was playing for Senegal at the African Cup of Nations. Senegal was in the final against Mo Salah and Egypt on Sunday.It was 0-0 after 120 minutes so it came to penalties. Mendy made a crucial penalty save and Sadio Mane scored the winner.
In less than a year, Mendy has won the Champions League, Super Cup and now AFCON. Back in 2015, he was out of a job and almost quit football. After working hard in France, he signed for Chelsea and now is one of the world's best goalkeepers.
I guess the moral of the story is, never give up and believe in yourself. Who knows? One day your dreams will come true.
So it looks like GTA 6 is happening


Believe it or not, GTA V is almost nine years old. I was 13 when it came out and just entered high school.

It is one of the greatest games of all time and it's one of the highest-selling games of all time. It has a good story and the online part took the game to new heights.

Unfortunately, Rockstar Games has been milking GTA V so much that they are releasing it again for the PS5 and Xbox Series X/S. They have milked the online content so much that it has become unbearable. Though the newest update with the return of Franklin and Lamar and music from Dr. Dre, Eminem and Anderson Paak were cool, many are sick of GTA V.

I don't play online but I wish they gave GTA V story DLCs as they did with GTA IV.

However, it looks like the next GTA game is in development. Rockstar put this statement out on its social media platforms:
"Many of you have been asking about a new entry in the Grand Theft Auto series. With every new project, our goal is always to significantly move beyond what we've previously delivered. We're pleased to confirm that active development for the next entry in the series is underway."
That's great news but it has come about five years too late. Here are some things I would like for GTA 6. ( If that is what it's going to be called.)
Multiple cities: I really loved the multiple cities aspect in GTA: San Andreas and it would be great to have multiple cities again.
Multiple protagonists again and at least one of them is a woman: The three protagonists thing in GTA V was great. We have never played as a woman (only online) in the GTA series either. Also, it would be cool if we can customize one of the protagonists
More interiors: GTA SA had gyms and restaurants where the protagonist can workout and eat, respectively. Those should come back
More leisure activities: GTA V had golf and tennis as ways to unwind. Why can't that come back?
Better post-game and side missions. After you complete the game, there should be more missions you can do. Being a tow truck driver isn't a good side mission either.
No filler missions: Yoga in GTA V really?
Choose and customize a car for the character and have it not disappear after a mission
More NPC interaction
Not have the cops come after you when you fire a gun with a silencer in the middle of nowhere




So this is the longest Avid Thoughts to date because I had lots to say. Be on the lookout for it next week!