The Vancouver Whitecaps made some big news on Friday.
It was first reported by the Washington Post's Steven Goff that the Whitecaps have made a trade with DC United. Vancouver sent $900,000 to D.C. United for wing back Julian Gressel. (He also has played as a midfielder in the past.)
This is a really solid move for the Whitecaps. Getting one of the best wing backs in the MLS for $900,000 is a steal. With Gressel, Vancouver has absolutely improved. You have to give credit to Sporting Director and CEO Axel Schuster along with their recruitment staff. They Whitecaps have recruited some good players over the last calendar year including Ryan Gauld, Andres Cubas and now Gressel
Let's dive deep into how Gressel can help the Whitecaps.
Who is Julian Gressel?
Gressel is a player with a ton of MLS experience. He has played for Atlanta United where he was MLS rookie of the year in 2017. In 2018, he helped Atlanta win the MLS Cup in just their second year of existence. Gressel was traded to D.C. for $750,000 in GAM in January 2020.
Before making his way to the MLS, Gressel's career began by playing for youth teams in his native Germany. He also made first team appearances for TSV Neustadt/Aisch and Eintract Bamberg in the lower-tier German leagues before deciding to play in the NCAA with the Providence College Flairs. At Providence, he made 83 appereances before being taken eighth overall by Atlanta United in the 2017 MLS SuperDraft.
The 28-year-old was born in Neustadt an der Aisch, Germany and is right footed. He stands at 6'1″ and weighs about 185 pounds.
What do the stats say about Gressel?
Since 2017, Gressel has put up 58 assists in the regular season and that is second in that time span only to New York City FC's Maximiliano Moralez. He also was third in the MLS in assists in 2021 with 13.
As for the advanced stats, they look pretty darn good.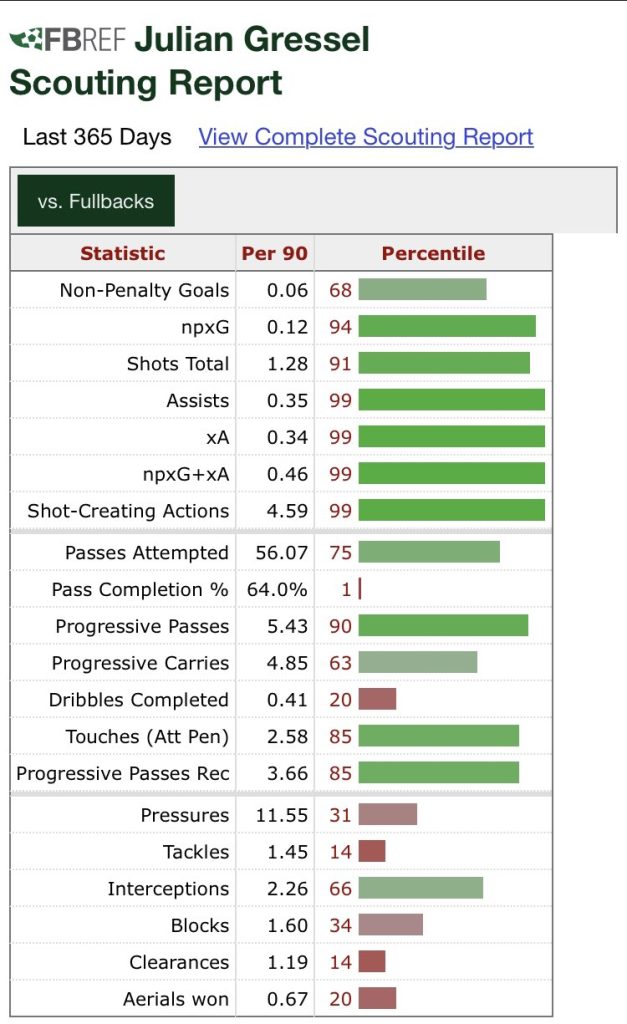 As you can see, the stats say he can really pass the ball. Yes, the completion rate isn't the best but the key thing is the progressive passes. These are the long passes and crosses that reach the strikers.
The Whitecaps rank in the bottom five in assists, key passes and long balls and Gressel can definitely provide a boost with is passing. Being in the 99th percentile of assists and expected assists is very good.
Don't expect him to do a whole lot of defending but in terms of interceptions, the above chart shows he is capable of doing that. He may not be the best at defending but with (a healthy) Andres Cubas holding down the midfield, he doesn't have to worry about that. Javain Brown (when healthy) has also proven he can handle the RCB position and Tristan Blackmon can also be relied upon there as that is his natural position.
Brian White and Lucas Cavallini are going to benefit from Gressel. DC United striker Taxi Fountas is going to really miss him.
Both White and Cavallini have had trouble finding those passes in the box. With Gressel around, he could use his excellent vision to find either White or Cavallini in the box.
Gressel according to the eye test
Let's look at some clips and see how good of a creator Gressel is.
He can also be a set piece option for the Whitecaps. Below is an excellent cross from a free kick. It is like he knew Andy Najar was going to get his head on the ball and put it in the net. Just a perfect delivery.
It looks like he likes to press as well. Gressel just catches the New York Red Bulls defender off guard and uses his excellent vision to find Ola Kamara.
Head coach Vanni Sartini has talked about his team being quick on the transitions. The Whitecaps have looked dangerous on them but they just can't seem to get that final pass to click. Thankfully, Gressel isn't just about crosses or passes from the sides. On the transitions, he really knows how to find the strikers.
This clip is from when he was with Atlanta United. There was a maze of Portland Timbers defenders in front of him and yet he still found Josef Martinez. He just kept his head up and delivered a great ball to Martinez who scored a fantastic goal.
So the eye test matches the statistics. Expect him to deliver crosses, long balls and key passes with his creativity and vision.
How will Gressel fit in with the Whitecaps?
Gressel's abilties just fits well with Sartini's system. He likes the Whitecaps to play with three at the back and they are not really a possession based team. However, Sartini wants the Whitecaps to make the most of the possession they do get. That is why a chunk of their goals this season has been scored on the transitions.
Gressel is perfect for the three at the back. With his skills and creativity, the rest of the squad will benefit.
They have been needing a natural wingback for quite some time. Yes, there is Luis Martins but he is isn't really a starter. There is also Cristián Gutiérrez but he has been dealing with injuries. Marcus Godinho has done an excellent job as a right wing back but unfortunately, he is out with a knee problem. Cristian Dájome and Ryan Raposo have also played in the wingback positions but they are naturally wingers.
Gressel is best suited for the right side. Here is my ideal Whitecaps starting XI with everybody healthy. I'm going to use the 3-4-1-2 formation as that is commonly used by Sartini and I feel that is formation that really suits Gressel.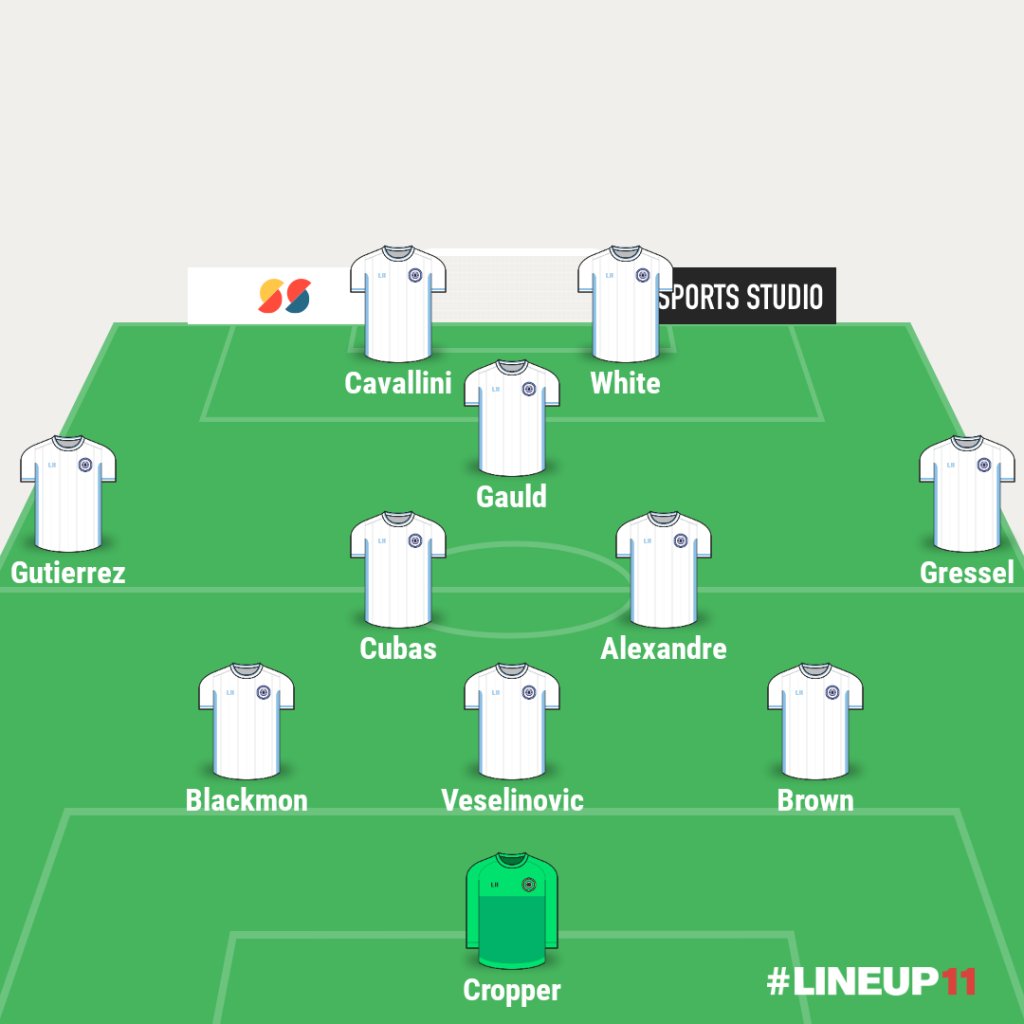 With Gressel and Gutierrez's passing and crossing on the flanks, with Caio Alexandre and Cubas down the middle holding down the midfield, expect the attack to one up more. Gauld, Cavallini and White can receive Gressel's passes and he and Gauld will be the leaders of the attack. With their playmaking, Cavallini and White can receive better passes in the 18-yard-box and hopefully that results in more goals.
The Whitecaps got themselves a really good player in Gressel. These are the type of moves the fans want to see and he is a player that can make a big impact.
Gressel won't play Sunday in Portland but he will most likely make his Whitecaps debut at BC Place on Saturday, July 23 against Xherdan Shaqiri and the Chicago Fire.