It's easy to say that the off-season came far earlier than any Winterhawks fans would have liked. However, the organization has taken the early end and run with it. On June 1, 2022, they announced the signing of Cole Cairns, 2021s 81st overall draft selection, to a WHL standard player agreement. The very next day, the Winterhawks announced the signing of Carsyn Dyck, a sixth-round pick also from the 2021 draft.
Cole Cairns
While both are 16 and play forward, they each bring specific skills to the team that is sure to be vital. Cairns is known for his strength, his speed, and his adaptability. He can play center or wing, depending on where he's needed, he shoots right, and he's not afraid to mix things up if his 26 PIM in 36 GP says anything.
Cairns isn't just a disturber of the peace, though; he's also a playmaker. In 38 games played, he collected 12 assists and seven goals for 19 points this season for the Winnipeg Bruins U18 AAA. Also selected for Team Manitoba in the 2021-2022 WHL Cup, Cairns is no stranger to pressure, registering two points in five games against other top players in his age group. So it's safe to say you can find him around the net at any given time. And if you can't find him there, just look for the bright red hair. I promise you won't be able to miss him.
Carsyn Dyck
Carsyn Dyck, 16, has been compared to Tyson Kozak by Mike Coflin, Assistant to GM, Director, Scouting of the Portland Winterhawks. That's high praise, considering Kozak has been an essential piece to Portland's offense since making his debut in the red and black.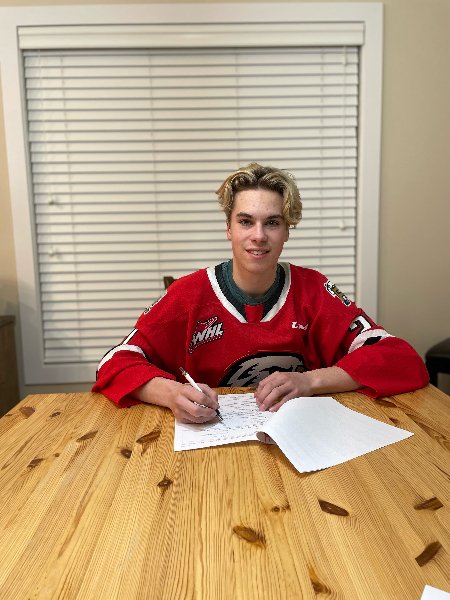 Dyck is considered a well-rounded two-way forward and has the stats to prove it. With 44 games under his belt this season, Dyck collected 16 goals and 19 assists for the Warman Wildcats U18 AAA. With his help, the Warman Wildcats made it to the SMAAAHL Championship game. While in the playoffs, Carsyn collected four goals and an assist in nine games.
Yet another piece Dyck brings to the Winterhawks table is his leadership abilities. During the shortened Covid-19 year, Carsyn captained his u15 team. The season lasted only four games, but Carsyn had five goals and five assists for ten total points in those four games.
We all like goals!
Both Cole Cairns and Carsyn Dyck bring an ability to score to the Portland Winterhawks, something every team likes to see, and honestly, who doesn't want to see more goals being scored?
We expect to see both players at training camp later this summer.