A year ago, Koehn Ziemmer stepped onto the scene as the Prince George Cougars leading goal scorer as a 16-year old during the shortened Western Hockey League hub season. Now 17-years old the center has more than backed up that performance in 2021-22 as he attempts to lead the Cougars to the playoffs.
The product of Mayerthorpe, AB was the fourth overall pick to Prince George in the 2019 WHL Draft. He found the back of the net nine times during the 2020-21 B.C. Division hub season held in Kamloops and Kelowna. This season, his first full slate in the WHL, Ziemmer has further emerged as an offensive catalyst on a young but talented Cougars squad.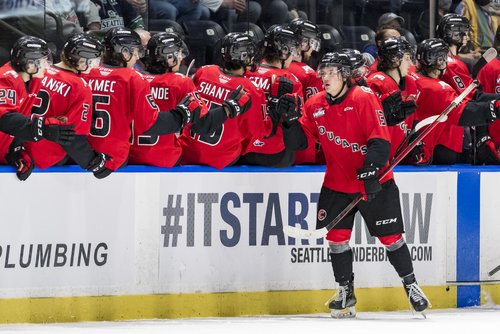 Ziemmer is again setting the pace with 29 goals on the season for Prince George.
The Cougars, who will be finishing a stretch of six consecutive games against the Royals, are currently tied with Spokane for the final Western Conference playoff spot, but have two games in hand on the Chiefs. The Royals are currently seventh, five points ahead, but Prince George has four games in-hand on Victoria, so a win or two in the last remaining head-to-head set could give the Cougars a strong opportunity to overtake the Royals.
A playoff appearance would be the first for Prince George since the 2016-17 season. The Cougars have also not won a playoff series since their Western Conference Final appearance in 2006-07.
Ziemmer has paired wonderfully with 16-year old Riley Heidt on the top line for Prince George. Heidt, the second overall pick in the 2020 WHL Draft, has a team-best 33 assists and 48 points, close behind Ziemmer's 51 points. Heidt's 15 goals are also second best. Ziemmer currently has the fifth-highest percentage of his team's goals of any one player in the WHL.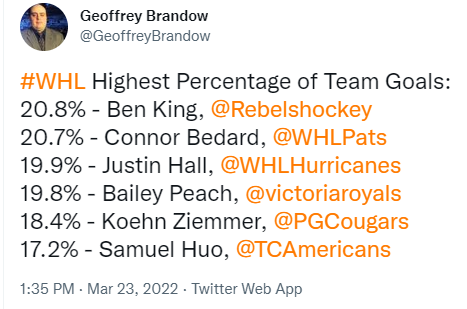 When you add Ethan Samson (2021 Philadelphia Flyers sixth round) leading the defense core, there is no doubt about the talent on the Cougars roster, but growing pains have been unavoidable with so many young players in leadership roles and playing major minutes. Prince George is 1-9 in their last 10 games and has just three victories in 21 games since January 21.
From a personal standpoint, Ziemmer enjoyed his best success so far this season during one-month stretch from December 14 until January 19. During that 12-game span, Ziemmer racked up 13 goals and 21 points. He scored twice in four different games, and recorded a career-high six points on December 15 against the Vancouver Giants.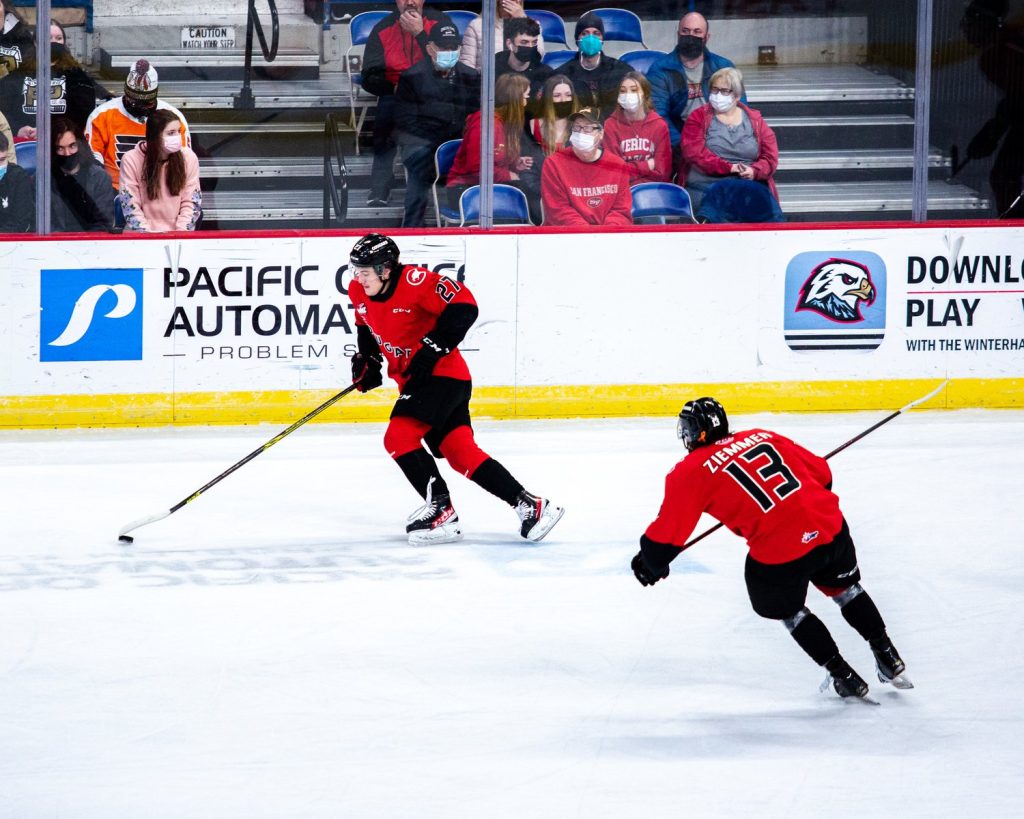 Even with his team struggling in recent times, Ziemmer is showing signs of returning to that type of dominance with nine goals and 15 points in his last 11 games. The run included eight goals on a five-game goal-scoring binge in which he victimized Victoria six times. He notched his first career four-goal game in a 9-1 romp over the Royals on March 12.
Due to a December 2004 birthday, Ziemmer's NHL draft year is 2023, following next season. Listed at 6', 195 lbs, he has shown the ability to play center and drive his own line, which when combined with another year of skill development and physical maturity, is sure to make him a desirable target.
For now, though, fans in Prince George are rooting for him to put together another dominant stretch to lead the Cougars back to the playoffs.