The 2022 Stanley Cup Final is set to begin on Wednesday, June 15th with multiple former WHLers featuring prominently in each roster. It seems that every year, a former WHLer steps up and leads their team to victory with players like Ryan Getzlaf in 2007, Braden Holtby in 2018 and Brayden Schenn in 2019. Here are four players expected to play big roles in 2022.
Bowen Byram- Colorado Avalanche
The former Vancouver Giants defenceman has played lights out this playoffs for the Colorado Avalanche. In 14 games, he has recorded seven assists which is tied for sixth amongst all defenceman in the playoffs while his +12 rating is tied for third across the entire league. He can be moved up and down the lineup and has shown he has a very bright future in the NHL.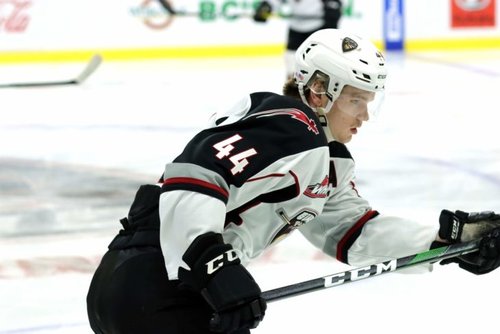 To show just how dominate Byram has been, one just needs to look at his analytics. Through just under 240 minutes of even strength play, he has a Corsi of 60.6%. The only players on Colorado with a higher Corsi are Nathan MacKinnon and Nazem Kadri. This despite starter more often in his own zone than the offensive zone. While a lot of the attention will be on Cale Makar, he could be a difference maker this series.
Brayden Point- Tampa Bay Lightning
It looks as though Brayden Point is back which is bad news for Colorado. The former Moose Jaw Warrior and now back to back Stanley Cup Champion may be the most dominate playoff performer the last three seasons. He has been out since the first round but looks ready to go once the puck drops for Game One.
Dominate may not even be the right word when it comes to Point and the playoffs. During the past two playoff runs for the Lightning, he has 28 goals and 56 points in 46 games. He also has a chance to join an exclusive group that includes players like Clark Gilles, Bob Nystrom and Butch Goring as the only former WHLers to win three consecutive Stanley Cups. He always is a key contributor in the playoffs and the 2022 Stanley Cup should be no different.
Darren Helm- Colorado Avalanche
After a 14 year career in Detroit, Darren Helm arrived in Colorado Avalanche searching for his second Stanley Cup. While fans may not hear his name called much, he provides stability to a fourth line that will be crucial part of the Avs in the Stanley Cup. Known for scoring big goals, he scored the series winning goal against St. Louis in round two with five second left in Game Six.
If Helm is able to capture his second Stanley Cup, he will become just the 12th player to win multiple Stanley Cups plus a WHL Championship. He was part of the 2007 Medicine Hat Tigers that defeated Vancouver in the WHL Final before falling in the Memorial Cup final to the same Giants team. At 35, this may be his best chance to claim his second Stanley Cup so you know he will be excited for the opportunity.
Brandon Hagel- Tampa Bay Lightning
Brandon Hagel is finally finding his footing in Tampa Bay. The former Red Deer Rebels who sits second in all-time points and first in assists with the franchise has elevated his game during the postseason with his relentless forecheck and willingness to play physical. He currently find himself playing a shutdown role alongside Anthony Cirelli and Alex Killorn which has become one of the most dangerous lines in all of hockey at creating chances since being put together.
This won't be the first Championship series for Hagel as he was part of the Red Deer Rebels when they hosted the 2016 Memorial Cup. Seven years later, he is battling for the biggest trophy in hockey. The hope for him is this time, he can walk away with some hardware.
WHLers Show Up In Big Moments
The WHL is known for having players step up when needed. It could even be a player like Cal Foote or Darcy Kuemper who both should see action during the Stanley Cup. Regardless, once again, a big name former WHLer will find their name on the Cup this season.