The WHL will once again play a big role at the Olympics as 32 former players are expected to suit up in Beijing. The same will be said about the 2026 Olympics which is sure to feature quite a few former WHLers. With that in mind, here is a look at some current WHLers that could be suiting up in Italy.
Connor Bedard- Regina Pats/ Canada
Team Canada always brings a stacked roster to the Olympics when NHL players are involved, and 2026 will be no different. Based on player projections, do not be surprised if Connor Bedard makes the team at the age of 20. He is a dynamic player who has 47 points in 34 games so far this season. He also lit up the World Juniors with five points in his first two games. It will be exciting to see what he can do playing on a team with players like Connor McDavid, Brayden Point and Shane Wright.
Pavel Novák- Kelowna Rockets/ Czechia
Ever since arriving in the WHL, Pavel Novák has been one of the best import players in the league. He has 106 points in 91 career games and continues to impress whenever called to play for his home country of Czechia. There will be a lot of competition for a spot on Czechia, but based on Novák's play the last few seasons, he should have a shot at making the team.
Fabian Lysell- Vancouver Giants/ Sweden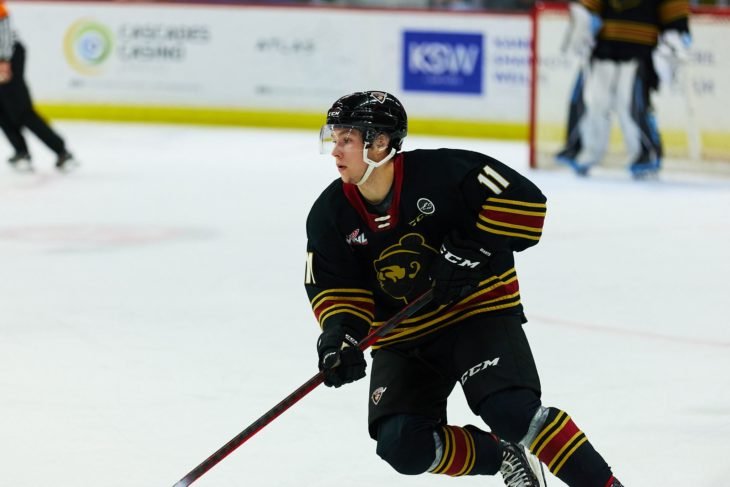 Fabian Lysell has been dynamic with the Vancouver Giants this season. He has a great combination of speed and skill which has led to 32 points in 28 games this season. The Swede's will be sending a highly skilled team with players like Elias Pettersson, Lucas Raymond and William Eklund so if he makes the team, Lysell should have no problem raking up the points.
Samuel Knazko- Seattle Thunderbirds/ Slovakia
2026 will most likely be Samuel Knazko second Olympics as he is part of Team Slovakia in Beijing. The mobile defenceman has captain Slovakia at the last two World Juniors and has already made an impact in the WHL despite only playing 11 games. The Thunderbirds are one of the hottest teams in the entire CHL and Knazko's return after this Olympics may be exactly what they need to go on a deep playoff run this season.
Keanu Derungs- Victoria Royals/ Switzerland
Keanu Derungs is one of the most underrated players in the WHL this season. He currently has 21 points in 27 games, but consistently drives offense and is not afraid to fire the puck on net. Throughout his career, he has been asked to represent his country at almost every level and has a very bright future ahead. Switzerland does have a strong projected team with players like Nico Hischier, Roman Josi and Timo Meier but based on his play this season and for his country, do not be surpised if Derungs name is called to represent the Swiss in 2026.
WHL Will Shine Bright in 2026
The WHL is going to be well represented in 2026. Whether it is the five names mentioned or players like Leon Draisaitl, Seth Jones, Oliver Bjorkstrand or Shea Theodore, the WHL will play a factor in who takes home Gold in Italy. Let us know which current WHL players you think will make the Olympics in 2026 below and don't forget to check back in 2026 to see who on this list makes it.