The Vancouver Giants are officially on their way to the second round of the WHL Playoffs after becoming the first ever eight seed to defeat a one seed in WHL history. In front of their home crowd, Vancouver defeated Everett in Game 6 thanks to a five point night from their captain Zack Ostapchuk and goals from six different players including four from defenceman.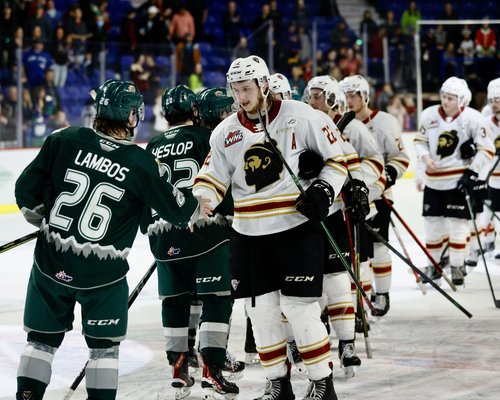 The Giants scored 30 goals in the six games with 12 being on the power play. Overall Vancouver went 12 for 32 with the man advantage which is a 37.5% efficiency rate. For comparison, during the regular season, they only scored 43 goals and were clicking at a 17.7% efficiency. Ostapchuk believes the success comes from getting more pucks on net as well as moving the puck better.
" I think we are just moving the puck around really, really quickly and finally starting to shoot which is something I didn't think we did in the regular season. We are starting to get pucks on net and crash the net." said Ostapchuk. The Giants have the third best power play percentage in the WHL but scored the most goals in round one.
The big question coming into the series was would the Giants get depth scoring? The depth scoring came fast and furious as 13 different players scored goals in the six games. One of the goal scorers was Colton Langkow who scored twice in the series including his first ever WHL goal.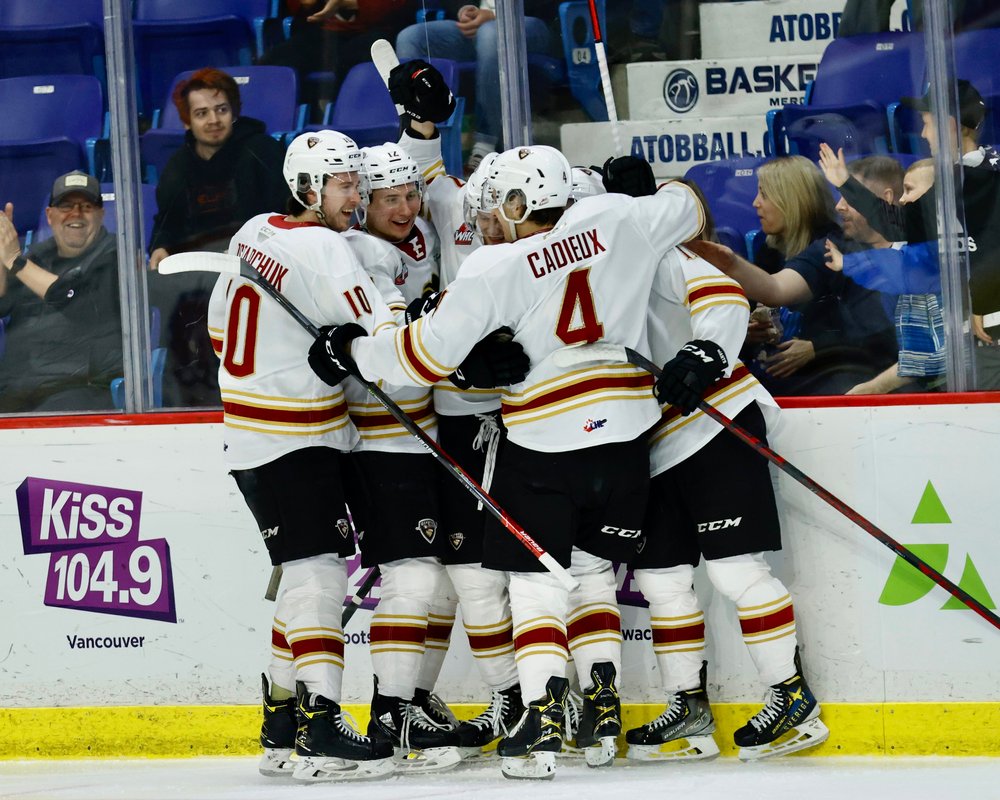 "The boys were fired up, we just wanted to show everyone we could do this. We knew we could the whole time. We just had to prove it to everyone". said Langkow after Game 6. "Getting the goal helped a lot to boost the confidence. There is no better time than in the playoffs. We just gotta keep going and play our game."
Overall, it was the first line that really drove this series. Ostapchuk (16 points), Fabian Lysell (15 points) and Adam Hall (10 points) were the main source of offense but as mentioned, it was the depth the really shined. Defenceman Alex Cotton had four goals and nine points while Mazden Leslie and Connor Horning each had a pair of goals. The team came together and played as a unit rather than individuals which was a major reason they pulled off the upset.
Hall scored seven goals including the first and last goals of the series for Vancouver. This was a special series for Hall as he has never participated in the WHL playoffs in large part due to COVID-19 and he wanted to ensure this was not a one and done year.
"The crowd (in Langley) was awesome. They really propelled us early. We got that early goal and they really helped us keep momentum." said Hall when asked about the fans in Game 6. He then touched on winning the series and what it meant to him. "It's been so long and you really didn't want to be one and done because of how long it's been. It's my last year and just to go as far as possible is awesome."
Lastly, who can forget about the performance of Jesper Vikman. The Giants starter battled back from injury to make it back for the playoffs. Before his start in game one, he had not played a game since Mar. 4, 2022 which was a span on 49 days. Not only did he come back, he was phenomenal in the series highlighted by a 50-save shutout in Game 5. Coach Michael Dyck talked a little about his goaltender after Game 6.
"We knew he was going to get better and better every game credit to him. Boy, he put in a lot of work. A tremendous amount of work to get himself back to this spot. We were concerned that he may not get another opportunity to play this year again but boy did he work hard. We played hard in front of him and it's great to see him back. When there is a groin injury, it's like a starting pitcher with a rotator cuff. You don't come back from those easily."
This will be a series not many will forget, from the timeout called by Everett in Game 3 while up by four with a minute left, to the 50-save shutout and of course the five goal third period in Game 4, this series had everything. Coach Dyck put it best when he said post-series "What an effort".
The Giants now face the Kamloops Blazers in round two. Kamloops took the season series 10-1-1 but don't count out Vancouver. If they can continue to play the way they did against Everett, they could give the Blazers a run for their money in round two. Game one goes Friday night in Kamloops.