After 20 games, the Vancouver Giants find themselves with a record of 7-9-2-2. They are starting to gel as a team, with a 5-4-1 record in their last 10. Here are some players that have stepped up over the first 20 games.
MVP: Samuel Honzek
2023 NHL Draft prospect Samuel Honzek is not just the leading scorer on the Giants but also the league leader among rookies, with 13 goals and 29 points in 20 games.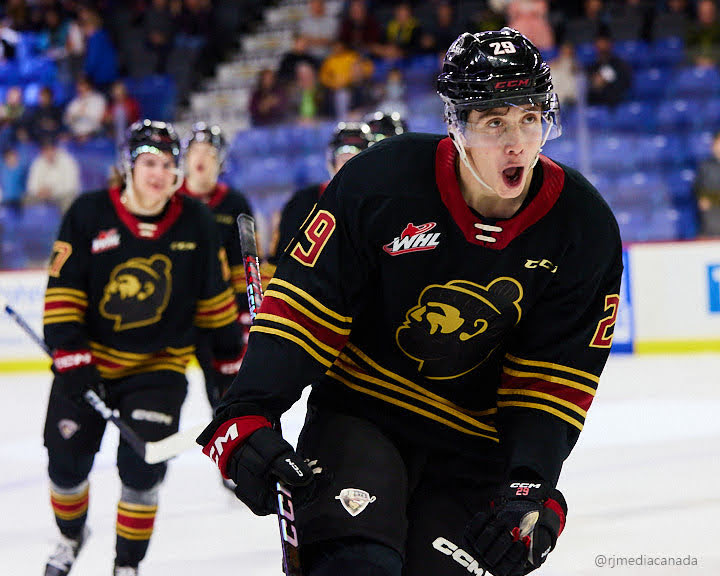 He is currently riding a seven-game point streak which has seen him post 16 points over that period. On top of that, he has also scored in his last five games. It took some time for him to adjust to the North American ice surface, but his development so far is a major reason he received an "A" rating on Central Scoutings Preliminary List.
Best Defenceman: Mazden Leslie
Mazden Leslie continues to have a strong start to the season, thanks to his offensive play. He is now up to 19 points and is tied for 11th in defensive scoring across the league. A player who loves to activate from the blue line, watch for him to continue to rack up the points this season.
Unsung Hero: Jaden Lipinski
Jaden Lipinski remains one of the best-kept secrets in the WHL. He is up to 16 points on the season and is tied for the team lead with four power play goals. As for his faceoff percentage, he is still one of the best in the league, having won 141 faceoffs or 52.8% of his draws. Another Giant who will be generating some buzz come draft time, he is developing into a solid two-way center whose game should transition to the NHL well.
Best Performance During Last 10 Games: Zack Ostapchuk vs Prince George
This one was tough, but the winner is Zack Ostapchuk on November 12th vs Prince George. In a 5-4 Vancouver win, the Giants captain potted a goal and four assists.
He wasn't just dynamic in the goal-scoring department as he went 12 for 19 in the faceoff dot and led the Giants with five shots on net. This was also his first five-point regular season game and the third of his career, as he recorded two against Everett in the playoffs last season.
Player Spotlight: Ty Halaburda
Ever since joining Vancouver last season, Ty Halaburda has been one of the most exciting players to watch night after night. He is relentless when pressuring defenders and has shown strong play on the penalty kill and power play this season. One of the more impressive statistics is that he has recorded a shot in all 19 games he has played in this season, with 19 coming in his last 10 games. Although he is not racking up the points, he plays a crucial role on this team and will have to keep up his game if the Giants have sights on another postseason run.
That will do it for the Giants' ten-game update here on the Area 51 Sports Networks. Make sure to keep your eyes peeled right here as we bring you the best WHL coverage all throughout the season.