Vancouver Whitecaps head coach Vanni Sartini desires players who are proficient in multiple positions. This is his ethos; he never plays the same lineup in back-to-back games. But there are elements to his tactical tinkering that have endured, and players have been forced to adapt in order to get game time or they find themselves missing out on the game sheet.
While players may find themselves in a position outside of their comfort zone, no player has been slotted into as many different positions as Cristian Dájome
Over the course of 13 starts and two substitution appearances this season, Dájome has played wingback and winger on both the left and right, as an attacking midfielder and a striker. He has become a sort of Swiss army knife for Sartini, playing his preferred position on the left wing on occasion, but more than likely deputizing for whatever role is needed.
In the most recent 2-1 win against York United FC in the Canadian Championship, Dájome was again at wingback, switching sides on the night with Ryan Raposo. This is where the bulk of the Colombian's performances have been.
Dájome's offensive output is well known. He was second on the team in scoring last year, putting up 10 goals and four assists. However, it should be noted that four of his goals were from the penalty spot.
This year, the net has been more difficult to find. He has just one goal and two assists in the current season.
But that's understandable given his playing time in positions further away from the opposition's goal. The question remains, however, is he still as effective as a team player in those other positions that he has been asked to do?
Wingbacks in football are a hybrid position. Their job is to ensure defensive stability, helping out their centre-backs. But they are also required to get up the pitch, cross balls into the 18-yard box and even cut inside for a goal or two themselves on occasion.
This means wingbacks must be pacey and have loads of endurance, but also be able to switch on a dime into a defensive mindset, get back, win 1v1 along the flanks and press hard when asked to.
Are the Whitecaps getting balls in from wide areas?
Let's explore the wingback role from a team level. How are the wingbacks doing in terms of the offensive role? Let's look at the other mainstays in this position on the roster in order to get a better idea.
When it comes to passes into the box, the Whitecaps are not the worst in MLS, but they are not entirely great either.
They rank 17th out of 28 clubs, which puts them in the middle of the league.
But a better indication in regards to wingbacks is in. Wingbacks get the ball into the box more often than not by crossing it in. In this, the 'Caps fare better, ranking at 7th in the league.
Looking closer at the squad, the Whitecaps have a number of players that have slotted in at wingback— Dájome, Raposo, Cristián Gutiérrez, Javian Brown, Marcus Godinho and the relative newcomer Luís Martins.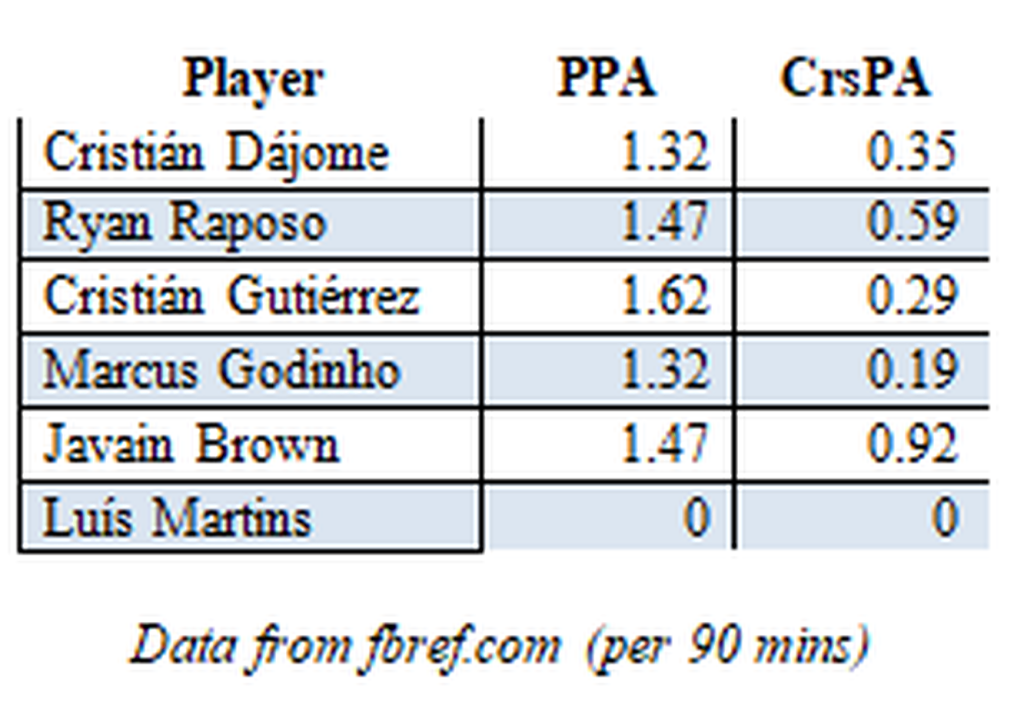 From this dataset, Dájome is in the middle of the pack for crosses into the box. For passes, he is tied for last with Godinho (Martins has not played enough minutes to make him relevant to the discussion).
But in terms of an MLS comparison outside of the Whitecaps, fullback Pedro Santos of the Columbus Crew has a 1.22 PPA and a 0.16 CrsPA. For a more traditional winger, Seattle Sounders' Jordan Morris has a PPA of 1.02 and a CrsPA of 0.23.
It seems as though Dájome ranks quite well when matching up against other wide men in the MLS. This makes sense when looking back at the team-by-team rankings, which place the Whitecaps quite well in terms of crosses into the 18-yard box in particular. The team gets loads of balls into the box. Their issue may be more with knowing what to do with it once it gets there.
But there is a caveat here: Dájome ranks well because of the number of chances he has for crossing and passing. This gives him an alright average over 90 minutes, but it tends to hide the number of chances that go wasted. Only Brown has had more passes than him.

The defensive struggle: Are wingbacks helping or hindering?
As of late, the Whitecaps have improved their overall record. They have won five of their last six matches in all competitions and have done so through injuries and health issues.
But they are still leaking more goals than they are creating. The Blue-and-White have a -10 goal difference, the second worst in the league only to Sporting Kansas City.
In terms of their tackling and interceptions, it's middle of the road.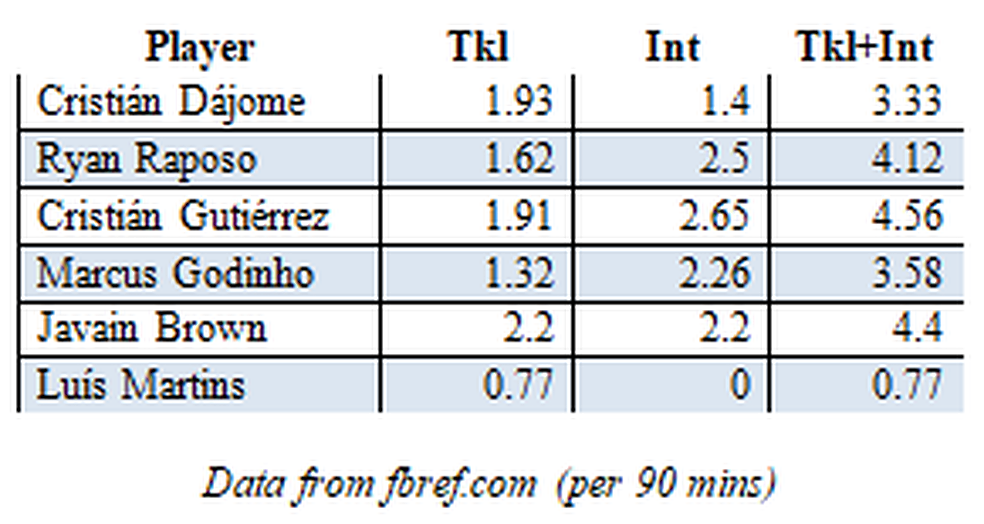 In comparison, Columbus' Santos has 4.96 tackles and 1.95 interceptions per game
It's understandable that a traditional fullback would have a higher number of tackles that a wingback because in many cases, wingbacks are coming into their opposition from behind. Fullbacks have time to set up and read the play in front of them while wingbacks are more likely to be chasing.
But given that wingbacks play further up, they should find themselves in positions to cut off passes. However, Dájome ranks poorly in interceptions among the Whitecaps' wide men, which is concerning.
Adding it all up

American Soccer Analysis has devised a metric that measures a player's overall contributions in dribbling, fouling, interrupting, passing, receiving and shooting. These individual stats are compiled in a way that shows their overall goals added, or their G+.
The G+ of a player becomes a comparative measure. A score of 0.00 is the average MLS player.