Zack Ostapchuk's game is staring to heat up, and that is bad news for the rest of the WHL's Western Conference. He may only have three points in his past six games, but he is creating offense by getting pucks on net and hasn't been afraid to throw his weight around. For the Giants to be successful, they need to Ottawa Senator prospect to continue to pour it on as the season starts to ramp up.
Firing From Everywhere
Not many in the entire WHL are getting pucks on net like Ostapchuk has since mid December. The 2nd round pick has 29 shots in his last six games and has at least four in five of the six contests. On Sunday, he was finally rewarded scoring the overtime winner versus the Kelowna Rockets to finally break Vancouver's four game losing streak. It was his first goal since December 18th versus Prince George.
Getting shots on goal is nothing new for Ostapchuk as he is currently second on the team with 79, but he seems to have put it into high gear recently. As mentioned, he has had four or more shots in five of his last six games. That ties the amount of four or more shot games in his previous 20 outings. He has eight goals so far this season, but if he keeps this level of play up, do not be surprised to see him hit 25 by the end of the campaign.
Finally Healthy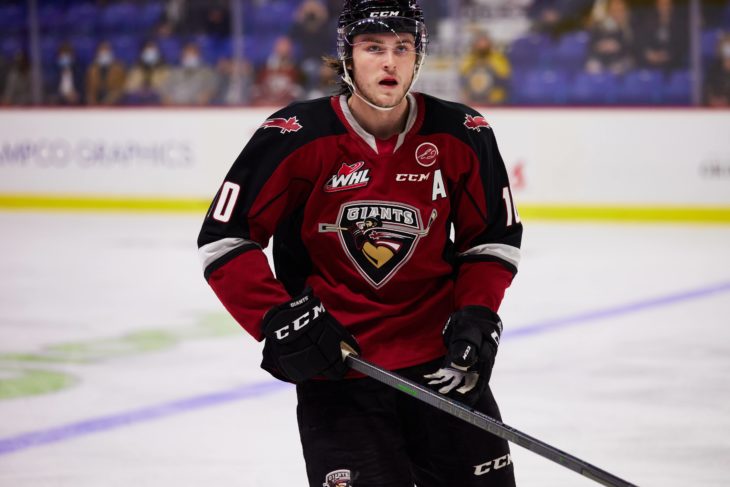 One major obstacle this season has been Ostapchuk's health. He has missed six games so far which slowed down his momentum early in the season. Now injury free, it is clear they were a major factor resulting in his slow start. If he can remain healthy the rest of the season, he will be one of the toughest forwards to play against in the WHL, which is great news if you are a Giants fan.
Giants Hoping for a Big 2022 From the Big Man
The Giants are going to rely heavily on Ostapchuk in 2022. He has started to develop some chemistry with Cole Shepard and Justin Lies, and that line will be called upon once the playoff race gets tighter. If he can continue his form from the past six games the rest of the way, the Giants are going to be a tough out in the playoffs.